Print This Recipe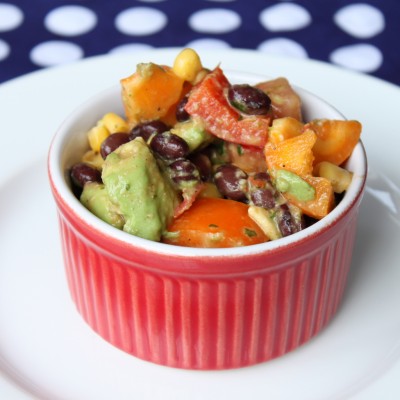 I used my cilantro-lime vinaigrette taco salad recipe (adapted from a Cooking Light recipe) to make a refreshing avocado salad.  I kept it simple with avocado, corn, black beans and bell peppers but you can adjust the salad fixings to your tastes and what you have on hand.

Author:
Itsy Bitsy Foodies
This refreshing salad is the perfect side for many meals.
Ingredients
Cilantro-Lime Vinaigrette
¼ cup chopped, seeded tomatoes
¼ cup chopped cilantro
1 tsp olive oil
1 Tbsp cider vinegar
1 tsp grated lime rind
1 Tbsp lime juice
¼ tsp cumin
¼ tsp chili powder
¼ tsp black pepper
⅛ tsp-1/4 tsp garlic powder
Salad Fixings
1 tomato, chopped
½ -1 red or orange bell pepper, chopped
1 cup frozen corn, thawed
1 can black or pinto beans, drained and rinsed
1 avocado, cut in chunks
Instructions
Cilantro-Lime Vinaigrette
Combine all of the ingredients in a blender and process until smooth.
Salad
Toss the vinaigrette with the salad fixings.
Tags: avocado, bell pepper, black beans, cilantro, lime