Print This Recipe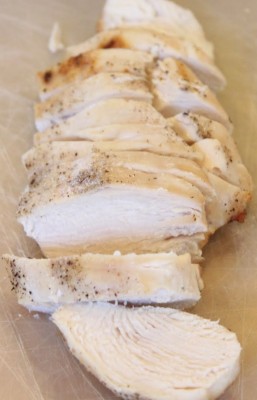 Cobb salad was invented in the 1930's at the Hollywood Brown Derby restaurant.  Named after the owner (the first cousin of baseball legend, Ty Cobb) the salad is the quintessential main course salad of the United States.  It consists of lettuce topped with hard-boiled eggs, chicken, bacon, avocado, cheese and tomatoes.  Traditionally, it was served with a red wine vinaigrette but these days you typically have your choice of dressing.  
In my mind, Cobb salad is the American equivalent of France's Salade Niçoise.  Similar to the French salad, your kids might like Cobb salad because it is topped with so many different yummy ingredients.  The salad is easy to make and perfect for a light, summer meal.  Use homemade ranch dressing, a basic salad vinaigrette or the salad dressing of your choice. 

Author:
Itsy Bitsy Foodies
Prep time:
Cook time:
Total time:
Cobb salad is the quintessential main course salad in the United States. It's a substantial salad loaded with chicken, bacon, avocado, cheese and other yummy ingredients.
Ingredients
2 slices of thick ham or bacon strips, cooked
2 hard-boiled eggs
1 tomato, cut in strips
1 avocado, cut in chunks
Blue cheese crumbles, feta crumbles or grated cheese
Romaine lettuce
Homemade ranch dressing or the salad dressing of your choice
2 chicken breasts
Lemon juice
Garlic powder, to taste
Salt, to taste
Black pepper, to taste
Instructions
Baking the Chicken
Place the breasts on a broiling pan and sprinkle them with garlic powder, black pepper and salt.
Broil them for 5-7 minutes.
Then flip the chicken breasts and sprinkle them again with salt, pepper and garlic powder.
Squirt lemon juice over the meat and broil them for an additional 5-7 minutes, until the chicken is done.
Slice the chicken and squirt it with more lemon juice if desired.
Making Hardboiled Eggs
Place the eggs in a pan and cover them with cold water.
To prevent the eggs from cracking while they cook, add roughly 1 tsp salt or 1 tsp vinegar to the water.
Bring the eggs to a boil and let them boil for 1-2 minutes.
Then, cover the pan with a lid and remove the pan from the heat.
Let the eggs simmer for 10 minutes or until they are done.
(To test if the eggs are done, spin an egg on the table. If the egg spins smoothly, then the egg is cooked. If the egg seems lop-sided while it spins, then it should cook longer.)
Assembling the Salad
Arrange the lettuce in a bowl.
Top with sliced hard-boiled eggs, sliced chicken, chopped ham or bacon, chopped avocado, cheese crumbles and chopped tomato.
Serve the salad with the dressing of your choice.
Tags: avocado, chicken, eggs, ham, romaine lettuce, salad, tomato