Print This Recipe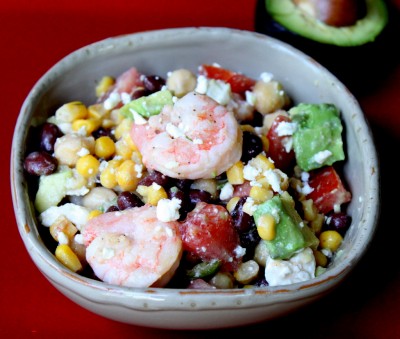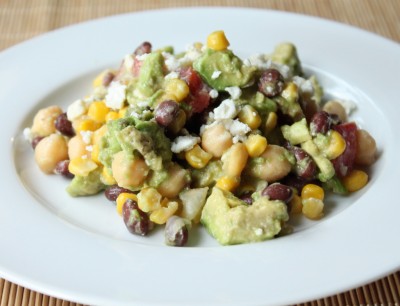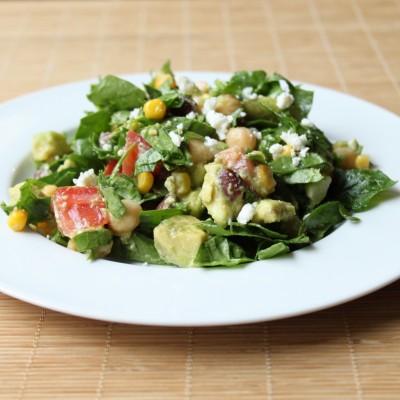 I recently received a box of California Avocados from the California Avocado Commission as part of the Foodbuzz Tastemaker Program.  My family did not have any trouble devouring all six avocados since avocados are one of our favorite foods.  My family noticed that the California avocados have a rich, nutty and almost smoky flavor that complement a variety of dishes. 
With my box of avocados, one recipe that I wanted to perfect was a salad, remade from one of my favorites: an Avocado Salad with a cilantro-lime vinaigrette.  I have been wanting to make a similar salad dressing that comes together quicker, without the fuss of chopping and blending a bunch of ingredients.  I used champagne vinegar instead of apple cider vinegar.  (My sister recently introduced me to champagne vinegar via a Bobby Flay salad recipe and I love how light the vinegar flavor is.)  Shrimp seemed liked the perfect choice for a summer salad but this salad dressing lends itself to a variety of salad fixings.  You can use whatever assortment of veggies, beans and meats that you would like.  In one version I left out the meat entirely and in another one, I added chopped spinach.   

Author:
Itsy Bitsy Foodies
Prep time:
Cook time:
Total time:
Shrimp seemed liked the perfect choice for a summer salad but this salad dressing lends itself to a variety of salad fixings.
Ingredients
Shrimp
12 shrimp, peeled and deveined (or 12 pre-cooked cocktail shrimp)
Splash of lime or lemon juice
Dash of red pepper flakes
Dash of garlic powder
Dash of salt and black pepper
Vinaigrette
1 Tbsp lime juice
3 Tbsp champagne vinegar
Splash of canola oil
¼ tsp cumin
¼ tsp paprika
¼ tsp garlic powder
Dash of salt
Dash of black pepper
¼ cup cilantro, chopped
Salad Fixings
¼ cup Feta cheese crumbles
2 avocados, chopped
1 cup corn (canned, frozen or fresh from the cob)
1 tomato, chopped
1 can black beans, drained and rinsed
1 can garbanzo beans, drained and rinsed
Instructions
Shrimp
Lightly coat a pan with cooking oil over medium heat.
Place the shrimp in the pan and add a splash of lemon or lime juice, red pepper flakes, garlic powder and salt & pepper.
Cook the shrimp for 2-3 minutes on each side until the shrimp turns pink.
Remove the shrimp from the heat and let them cool. (The shrimp can be cooked ahead of time and refrigerated. You can also use pre-cooked cocktail shrimp to save time.)
Vinaigrette
Mix the vinaigrette ingredients together.
Salad Fixings
Toss all of the ingredients with the salad dressing.
Serve the salad immediately or let it chill in the refrigerator.
Tags: avocados, black beans, California Avocado Commission, California avocados, cilantro, shrimp