Print This Recipe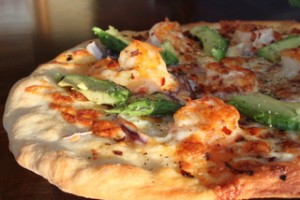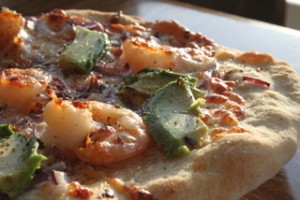 This is our take on a shrimp pizza that we had at one of our favorite pizzerias.  The creaminess of the avocado is a perfect combo with the shrimp. 
The following recipe is a rough guideline but you can adjust the quantities according to your taste and depending on the diameter of your pizza crust.
Ingredients
Easy Pizza Crust or Sourdough Pizza Crust
Olive oil
7-10 shrimp, peeled, rinsed and de-veined
1/2 of an avocado, sliced
1/4 of a red onion, sliced in rings
Crushed red pepper flakes, to taste
Black pepper, to taste
1 cup Mozzarella cheese, to taste
1/2 cup Parmesan cheese, to taste
Roll the pizza dough into a circle with roughly a 12-inch diameter and brush it with olive oil.  Sprinkle it with mozzarella and Parmesan cheese.  Place the raw shrimp and the red onion slices on the cheese.  Sprinkle the pizza with a dash of black pepper and crushed red pepper flakes.
Bake the pizza on a pre-heated pizza stone in the oven or on the BBQ, at the highest temperature possible.  Cook the pizza for several minutes, or until the shrimp is pink and fully cooked, the cheese is melted and the crust is golden brown.
Remove the pizza from the oven and place avocado slices on it while it cools.
Click here to view a guide for selecting shrimp and other seafood.