Fri, Mar 12, 2010
Around the World, Europe, Fun Family Activities, Holidays, Ireland, Main Dishes, North America, Search by Course, St. Patrick's Day, Steak & Beef, United States

Print This Recipe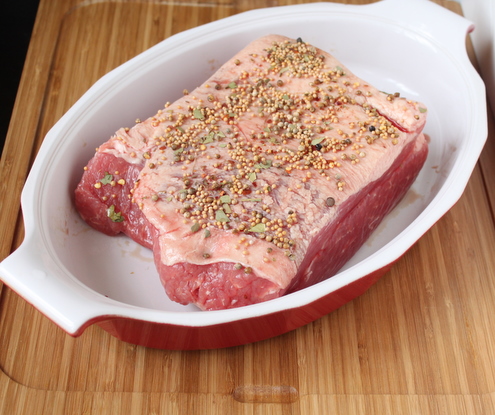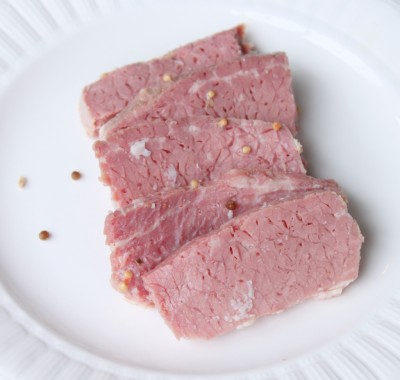 St. Patrick's Day is approaching so I started thinking about corned beef.  The funny thing is, corned beef isn't even a traditional Irish meal.  According to some sources, it has become a traditional St. Patrick's Day meal in America because of the influence of the Irish-American population and Irish immigrants back in the 1800's.  (They couldn't find bacon like they were used to in Ireland so they used corned beef instead.)
This makes me think of one of my best friends and college roommates, who happens to be from Dublin.  She always laughed at the fact that we Americans celebrate St. Paddy's Day with such vigor.  For example, the first St. Paddy's Day parade was actually in the United States.
Well, what can I say?  I love to party.  I love any excuse to make a special family meal.  I love traditions.  I love corned beef.  And because it's now my family's tradition, I guess it goes without saying that we'll be eating corned beef on March 17.
I have to admit that I was nervous about cooking my first corned beef.  I found out that it is surprisingly easy, though, especially if you use a slow cooker.  You can buy a corned beef brisket packaged in brine, already seasoned.  All you have to do is add it to the slow cooker with 1/4-inch of water and let it cook for several, depending on the weight of the brisket.
If you get a large brisket, you can make several meals out of it.  Our favorites are corned beef hash and corned beef sandwiches.

Author:
Itsy Bitsy Foodies
Prep time:
Cook time:
Total time:
Though corned beef is popular on St. Patrick's Day, it is an easy meal any time of year. My family loves to make corned beef hash and corned beef sandwiches with the meat.
Ingredients
1 corned beef brisket
Water
Instructions
To cook the corned beef brisket, place the meat in a slow cooker.
Add the packet of seasonings that comes with the meat.
Cover the meat with ¼ -inch water.
Cook for several hours, depending on the weight of the meat.
To cook the corned beef in the oven, place it in a roasting pan, cover the meat with ¼-inch water and place the lid on the pan.
Bake at 300 degrees for 3½ hours.
Then cook it uncovered for an additional hour.
The key to cooking corned beef and making it tender is "low and slow."
Once the corned beef is cooked, I remove the excess fat which separates easily from the meat.
Tags: beef, corned beef brisket, St. Paddy's Day, St. Patrick's Day