Fri, Mar 12, 2010
Around the World, Disguising Healthy Foods, Fun Family Activities, Holidays, Main Dishes, North America, Search by Course, St. Patrick's Day, Steak & Beef, United States

Print This Recipe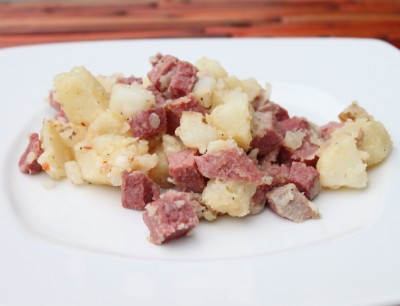 When I was little, my family would always celebrate St. Patrick's Day with a feast of corned beef, boiled potatoes and boiled cabbage.  For me, the meal was never that exciting.  It was our traditional leftover meal on March 18, however, that was always my favorite: corned beef hash.

Author:
Itsy Bitsy Foodies
Prep time:
Cook time:
Total time:
Corned beef hash is a favorite in my family and it works for breakfast, lunch or dinner.
Ingredients
2 cups chopped, cooked corned beef
3 cups chopped, cooked potatoes (roughly 3 medium-sized potatoes)
½ cup diced onion (roughly ½ of a medium-sized onion)
⅓ cup milk
¼ tsp salt, to taste
¼ tsp black pepper, to taste
½ tsp garlic powder, optional, to taste
¼ tsp crushed red pepper flakes, optional, to taste
Instructions
Place three potatoes (rinsed and scrubbed) on a baking sheet.
Bake them at 400 degrees for an hour or until they are tender. I use organic potatoes so that I can leave some of the potato skins in the hash.
Cut the cooked potatoes and corned beef into chunks.
Coat the bottom of a pan with vegetable oil.
Add the corned beef chunks, chopped potato, onion, milk and seasonings.
Spread the mixture into the pan and cook it on low for roughly 30 minutes. You want the potatoes to turn a crusty brown.
Tags: beef, corned beef, corned beef brisket, onion, potatoes, St. Paddy's Day, St. Patrick's Day