Print This Recipe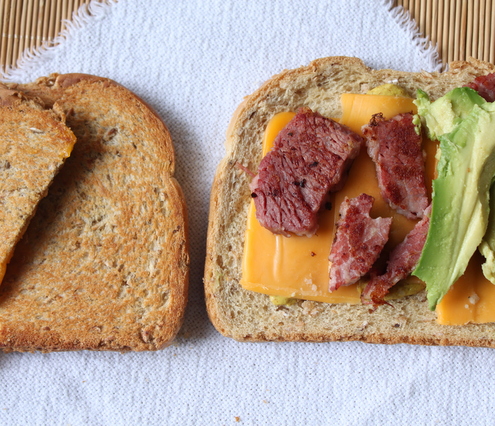 Whenever we make corned beef we always have lots of leftovers and my family likes the leftover meals even better.  The day after we had corned beef hash for dinner we made corned beef sandwiches for lunch with the leftover meat.  I think we'll be having these again sometime in the near future because we definitely can't wait until next March!
I used rye bread but you could use another type of bread if you don't like rye.  As for the mustard, Dijon, stone-ground or spicy mustard would all be good choices.

Author:
Itsy Bitsy Foodies
Prep time:
Cook time:
Total time:
Whenever we have corned beef we always look forward to the leftovers: corned beef, cheese and mustard sandwiched between rye and toasted until golden brown.
Ingredients
4+ slices of corned beef (or you could buy ready-to-eat corned beef deli meat)
4 slices of rye bread
Stone-ground or Dijon mustard
Cheese, sliced
Instructions
Spread mustard on one slice of bread.
Put the corned beef and cheese slices on the mustard.
Top the sandwich with the other slice of bread.
Place the sandwich in a non-stick pan (or a pan lightly coated with cooking spray or butter) over medium-low heat.
Cover the sandwich with a lid and cook it until the bottom is golden.
Flip the sandwich and continue cooking it until both sides are golden.
Cut the sandwich diagonally and serve it with veggie strips, french fries or chips.
Tags: beef, cheese, corned beef, mustard, rye bread, sandwiches, St. Paddy's Day, St. Patrick's Day