Print This Recipe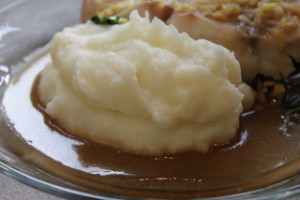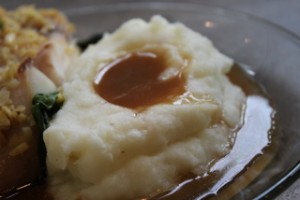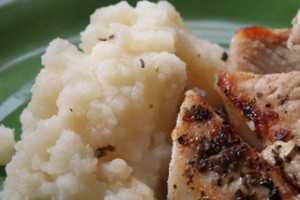 Mashed potatoes are the perfect accompaniment to many meals.  I love to season the mashers differently with each meal, using garlic, wasabi, and herbes de Provence, to name a few.  I have found that light sour cream is a great way to make the mashers smooth and creamy.  Add sour cream to reach your desired texture.
Ingredients
2 Russet potatoes
1/2 cup milk
1 Tbsp butter
2 Tbsp light sour cream, to consistency
1/2 tsp salt, to taste
1/2 tsp garlic powder or 2 cloves roasted garlic, to taste
Drizzle olive oil in a small baking pan.  Place two peeled garlic cloves in the olive oil and roast them in the oven at 400 degrees for 10-15 minutes, until light golden and soft.  Remove them from the heat and let them cool.  Once they are cool enough to handle, chop them into small pieces and mash them into a roasted garlic paste.
Bake the potatoes on a baking sheet at 400 degrees for 1 hour until the potatoes are soft.  Remove the skin.  Mash the potatoes and stir in the softened butter, milk, sour cream and roasted garlic.  Season the potatoes to taste.
Tags: butter, garlic, garlic mashed potatoes, healthier mashed potatoes, mashed potatoes, milk, potatoes, sour cream