Print This Recipe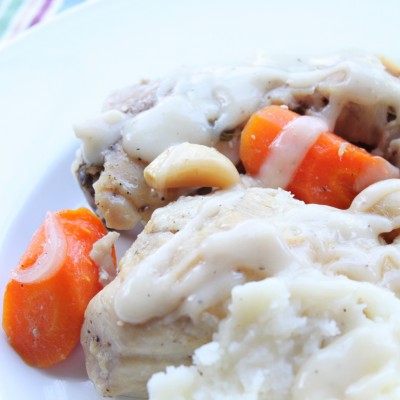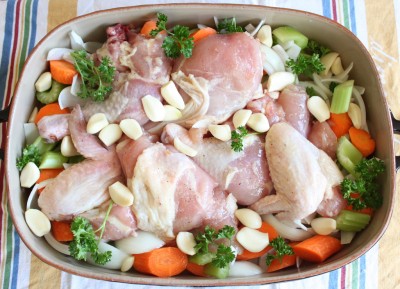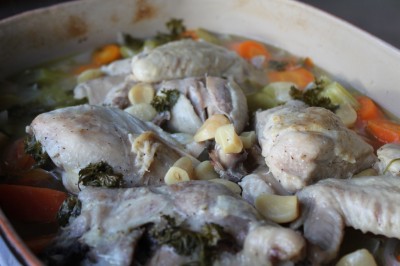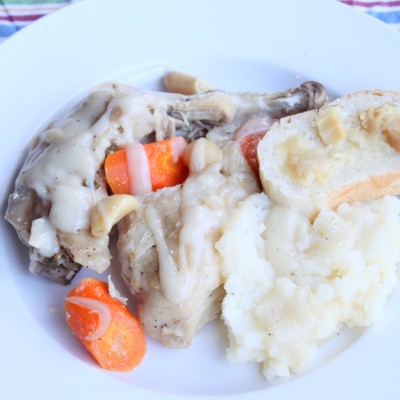 I recently had a lot of garlic that I wanted to use so I decided to attempt a French classic: Poulet aux quarante gouses d'ail (Chicken with Forty Cloves of Garlic).  This version is from a family friend who got it from her French neighbor.  It is very easy because you put all of the ingredients in a casserole dish, bake it in the oven and forget about it.  You don't have to worry about continually basting the chicken like you do when you roast a whole chicken.  (Although, if you prefer, you can also make this dish by roasting a whole chicken.) 
The end result is a rich, comforting meal.  If the thought of forty cloves of garlic frightens you, there is no need to worry.  The garlic flavor mellows as the cloves cook and when they are done, they are rich and buttery, perfect for slathering on your favorite bread or even the chicken itself.  In fact, the roasted garlic cloves become the star of the meal.
Ingredients
Whole chicken, cut into serving pieces
Olive oil
Salt, to taste
Pepper, to taste
40 cloves of garlic
1 onion, cut into large wedges
2-3 carrots, cut into strips
3 celery ribs, cut into strips
Handful of parsley
1 cup dry white wine
Bread, such as Crusty White Bread
Rub the pieces of chicken with olive oil, salt and pepper.  Place the seasoned chicken and the vegetables into a casserole pan or Dutch oven.  Pour in the white wine.  Cover the pan with a tight double layer of foil and the lid of the pan.
Bake the chicken at 375 degrees for 1 1/2 hours.
Serve the meal with your favorite bread.  Spread the roasted garlic cloves on the bread.  I also served the chicken with mashed potatoes and gravy.
To make the gravy, mix 1/4 cup flour and 2 Tbsp milk in a small saucepan over low heat, stirring until the flour is completely dissolved.  Then add 1-2 cups of the broth from the cooked chicken and heat the sauce, continuing to stir it until the gravy thickens.  Season the gravy to taste with black pepper.
TIP: You can also roast the whole chicken instead of cutting it up into serving pieces, following the steps in my  Oven-Roasted Chicken recipe.  Stuff the chicken with garlic cloves and vegetables and baste the chicken with white wine or broth.  You can roast additional vegetables and garlic cloves in a separate pan.