Print This Recipe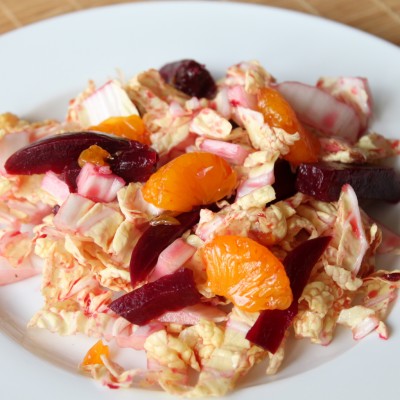 This sweet and sour vinaigrette can be used in many ways and you can adjust the ingredients according to your taste.  I like to use a combination of rice and balsamic vinegars and I use several tablespoons less oil than the original recipe from my Aunt.
As for the ingredients in the salad itself, you can use whatever you have on hand.  I like to shred the cabbage or lettuce so that it is easier to eat.  And I have found that the vinaigrette is the perfect complement to the beets. 
Ingredients
1+ Tbsp canola oil
2 Tbsp sugar
1 Tbsp rice vinegar
1 Tbsp balsamic vinegar
Dash of salt & pepper, to taste
Whisk the dressing ingredients until they are combined.
Toss the dressing with the salad fixings:
Napa cabbage or romaine lettuce, shredded
2 stalks celery, chopped
1/2 -1 can mandarin oranges, drained
Beets, thinly sliced
Toasted almonds, optional
To toast the almonds, cook 1/4 cup sliced almonds, 1 Tbsp water and 1 tsp sugar in a small saucepan until the almonds are coated.  Then spread the almonds on a baking sheet and broil them in the oven until they are golden.
TIP: If you boil the beets you can do this step ahead of time, keeping them covered in the refrigerator until you are ready to prepare the salad.
Tags: almonds, beets, cabbage, celery, mandarin oranges