Fri, Feb 25, 2011
Around the World, Breakfast, Denmark, Europe, Fun Family Activities, Holidays, Mardi Gras, Pancakes, Waffles & More, Search by Course

Print This Recipe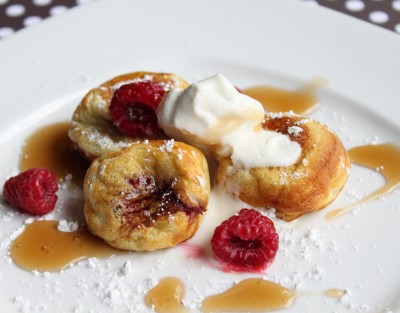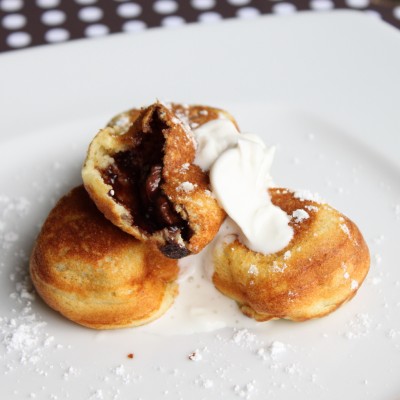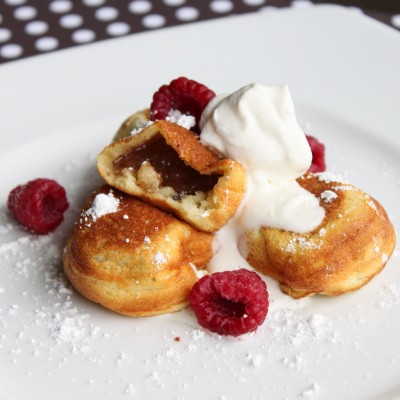 Ebleskiver (also spelled aebleskiver) are similar to the American version of pancakes except that they seem to be lighter and fluffier due to the egg whites being beaten into stiff peaks.  These Danish pancakes are also always a distinctive sphere shape because they are cooked in a specific ebleskiver pan.  You can find ebleskiver pans on Amazon or Williams-Sonoma.  They are inexpensive and easy to use. 
I got this basic ebleskiver recipe from a Williams-Sonoma catalog a while ago.  I like to make an assortment of flavors when I make ebleskiver, leaving some plain and filling the others with a variety of ingredients such as jam, mashed or chopped fruit, and chocolate.  Topping them with homemade whipped cream is always welcome in my family.  Nutella-filled ebleskiver and almond-filled ebleskiver are some of my family's favorites.
Author:
Itsy Bitsy Foodies
Prep time:
Cook time:
Total time:
Ebleskiver are the Danish version of pancakes. These light pancake pops can be filled with whatever you would like.
Ingredients
1¾ cups flour
2 Tbsp sugar
¾ tsp baking soda
1 tsp baking powder
½ tsp salt
3 eggs, separated
1¾ cups buttermilk
Melted butter
Homemade whipped cream
Maple syrup
Powdered sugar
Jam
Nutella
Almond paste or almond filling
Instructions
In a bowl, mix the flour, baking soda, baking powder, sugar, and salt.
In another bowl, mix the egg yolks and buttermilk.
Whisk the liquids into the dry mixture.
In a separate bowl, beat the egg whites to stiff peaks.
Gently stir the whites into the batter.
Heat an ebleskiver pan over medium heat and brush each well with melted butter. Spoon roughly 2 Tbsp of batter into each well.
If you are filling the pancakes, spoon only 1 Tbsp batter into each well.
Then add 1 tsp filling onto the batter and top with an additional 1 Tbsp of batter. Cook the pancakes for about 3-4 minutes until the tops start to bubble and the bottoms turn a light golden brown.
Then flip each pancake using wooden skewers or chopsticks.
Cook them for an additional 3 minutes until both sides are golden.
Serve the ebleskiver immediately with jam, maple syrup, powdered sugar and homemade whipped cream.
This recipe makes roughly 30 pancakes. You can cut the recipe down or you can refrigerate any leftover batter and make pancakes or waffles with it the next day.
Recipe adapted from Williams-Sonoma Kitchen.
There are many ebleskiver pans on Amazon, including the one that I use: Norpro Danish Aebleskiver Pan
Tags: eggs, filled pancakes, jam, maple syrup, pancakes, powdered sugar, whipped cream