Print This Recipe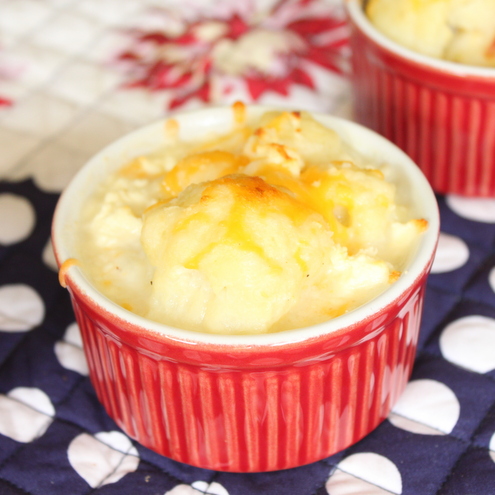 Cauliflower and cheese is the British take on the popular comfort food: macaroni and cheese.  What a clever way to disguise the cauliflower.  We recently had some friends over for dinner and I made this dish…and nobody missed the pasta!  I can't wait to try this with broccoli, carrots and other vegetables.  What veggies wouldn't be good with a cheesy Mornay sauce?!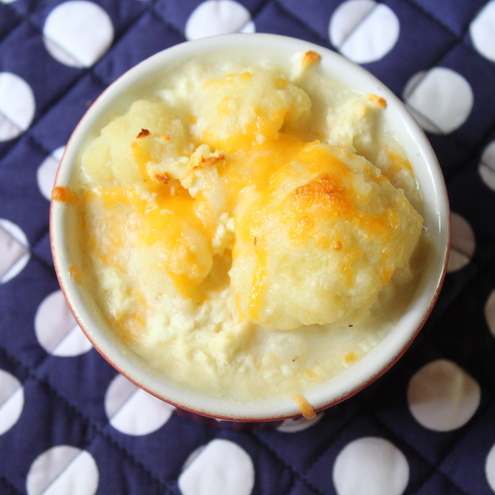 Instead of putting chunks of bread on the top (a common addition to this dish) I added chopped ham for some color, texture and flavor.  The smoky, saltiness of the ham paired beautifully with the creamy, buttery cheese sauce.

Author:
Itsy Bitsy Foodies
Prep time:
Cook time:
Total time:
You won't miss the pasta in this British take on macaroni and cheese.
Ingredients
1 head of cauliflower, broken into smaller chunks
2 Tbsp butter
2 Tbsp flour
1½ cups milk
Dash of salt and pepper, to taste
Dash of nutmeg
½ tsp garlic powder, to taste
1 cup cheddar cheese, grated and divided into two servings
½ -1 cup chopped ham, optional
Instructions
Lightly boil the cauliflower chunks (for 3-5 minutes). You don't want to overcook them because they will continue to cook in the oven.
Make the sauce by melting the butter in a pan over low heat.
Stir in the flour and let it thicken.
In a separate pan, warm the milk.
Gradually stir the warm milk into the flour and butter, whisking constantly.
Then add the seasonings.
Be careful not to burn the sauce.
Remove the sauce from the heat and stir in ½ cup grated cheddar cheese.
Mix until the sauce is creamy.
Layer the boiled cauliflower in a casserole dish.
Top with chopped ham if desired.
Pour the mornay sauce over the top and sprinkle with the remaining ½ cup grated cheddar cheese. Use more cheese or a mixture of cheese types, if desired.
Bake at 350 degrees until the top of the dish is bubbling and the cauliflower is tender when pricked with a fork.
You can broil it for a minute or two if you want to brown the top.
Tags: cauli and cheese, cauliflower, cheese, cheesy cauliflower, ham, veggie mac and cheese