Print This Recipe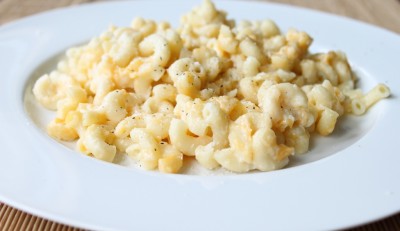 Macaroni and cheese is the ultimate comfort food.  This basic baked macaroni and cheese is what my mom made for my sister and me when we were little.  I make it a little different each time, using a variety of cheeses and mixing ham chunks, chicken sausage and/or veggies into the cheesy noodles.
To make the casserole, layer cheese(s) and noodles in a baking dish, pour béchamel sauce (or a Mornay sauce) over the noodles, and bake the mac and cheese to creamy perfection.

Macaroni and Cheese
Author:
Itsy Bitsy Foodies
Prep time:
Cook time:
Total time:
This basic baked macaroni and cheese is simple, creamy and the ultimate comfort food.
Ingredients
2 cups macaroni, cooked and drained
Cheddar cheese or other cheeses of your choice, to taste
Béchamel Sauce
2 Tbsp butter
2 Tbsp flour
2 cups milk
Instructions
Bechamel Sauce
Melt the butter in a pan over medium-low heat.
Stir in the flour and then gradually add the milk, whisking it constantly until the mixture thickens. It is better to cook it slowly so that it does not burn or boil. Sometimes I make a mornay sauce, stirring grated cheese into the béchamel sauce to help thicken it. Once thickened, remove the sauce from the heat.
Place half of the cooked macaroni in a casserole dish.
Cover the noodles with slices of cheese (or grated cheese) and salt & pepper.
Add the rest of the noodles.
Pour the béchamel or mornay sauce over the noodles.
Place slices of cheese (or grated cheese) on top.
I usually stir everything together so that the cheese is evenly mixed throughout the noodles.
Cover the mac and cheese with foil and put the casserole dish on a pan in case the cheese bubbles over while baking.
Bake the casserole for 30 minutes at 350 degrees or until bubbly and lightly browned.
Tags: baked mac and cheese, bechamel sauce, cheese, creamy mac and cheese, mac and cheese, macaroni, mornay sauce