Print This Recipe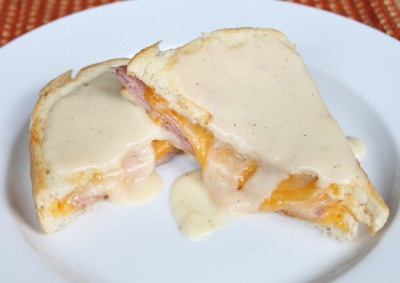 Mornay sauce is essentially Béchamel sauce with cheese.  Béchamel sauce is a roux (equal parts flour and butter) with milk.  All are important French sauces that are often used as the base of many sauces.
French sauces have a mystique about them and trying to make them has always seemed like a daunting task to me.  However, I have recently discovered that at least the roux, béchamel and mornay sauces are surprisingly simple to make.  And they can be used in many types of dishes, including the classic Crôque-Monsieur sandwich.

Mornay Sauce
Author:
Itsy Bitsy Foodies
Mornay sauce is essentially Béchamel sauce with cheese.
Ingredients
1-2 Tbsp butter
2 Tbsp flour
1 cup milk
¼ tsp salt, to taste
Dash of black pepper, to taste
¼ tsp garlic powder, to taste
Dash of nutmeg, optional
½ cup grated cheese
Instructions
Melt the butter over medium-low heat.
Stir in the flour.
In a separate pan, warm the milk.
Gradually add the milk to the flour and butter, whisking constantly.
Then add the seasonings.
Continue stirring until the sauce begins to thicken.
Be careful not to let the sauce boil or burn.
Gradually add the grated cheese and stir until it melts into the sauce.
Remove from heat.
TIP: If the sauce becomes stringy from the cheese, return it to the heat and bring to a simmer. Add a couple of drops of liquid - milk, lemon juice or white wine.
TIP 2: You can adjust the amount of milk that you use depending on the desired consistency of the sauce.
NOTE: Typically, Roux-Béchamel-Mornay sauces have equal parts of fat (butter) and flour. However, in many uses, including for the Crôque-Monsieur topping, I have found that using a little less butter works just fine.
Tags: bechamel sauce, butter, cheese, cheese sauce, flour, French sauces, milk, mornay sauce