Thu, Jul 22, 2010
Around the World, Disguising Healthy Foods, Foodgawker, Itsy Bitsy Foodies Sightings, Main Dishes, North America, Quick n' Easy, Search by Course, United States

Print This Recipe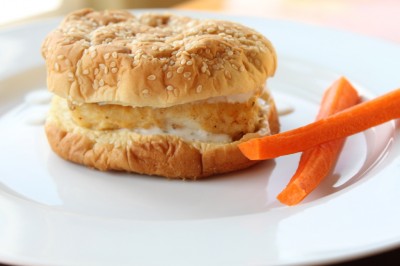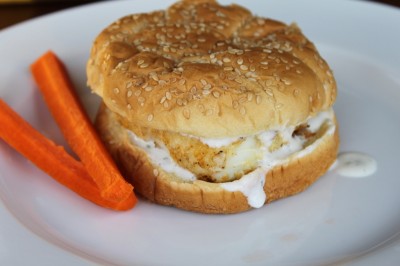 This simple fish sandwich is inspired by McDonald's Filet-o-Fish Sandwich.  By making it at home, it is a healthy meal and a good way to get your kids to eat seafood.  Use a firm, white fish such as cod.  I like using homemade ranch dressing but your favorite tartar sauce will also work.
Ingredients
1 pound of a firm, white fish (such as cod)
1/3 cup flour
1/4 tsp salt
1/8 tsp black pepper
1/8 tsp cayenne pepper, optional
1 egg
4 hamburger buns
Homemade ranch dressing (or tartar sauce)
Cut the fish into four square-ish pieces. 
Beat the egg in a shallow bowl.  In a separate bowl, mix the flour, salt, pepper and cayenne pepper.  Dip each piece of fish into the egg and then dredge the pieces in the flour mixture.
Lightly coat a pan with vegetable oil.  Cook the fish for 4-5 minutes over medium heat.  Then flip the fish, cover the pan, and cook the fish for 3-5 more minutes, until the fish flakes and is done.
You can also bake the fish if you would like.  To bake the fish, place the flour-coated fish pieces on a greased baking sheet.  Bake the fish at 375 degrees for 5 minutes.  Flip the pieces and continue baking them for 5 minutes, or until the fish flakes and is done.
Wrap the hamburger buns in foil and steam them in the oven for 10-15 minutes at 350-375 degrees.
To assemble the sandwiches, spoon a generous amount of homemade ranch dressing on the top and bottom bun.  Place the fish in the sandwich and enjoy.  Serve the sandwich with carrot sticks, other veggies and homemade ranch dressing or homemade french fries.
Click here to view a guide for selecting seafood.
Tags: bun, cod, ranch dressing, tartar sauce