Print This Recipe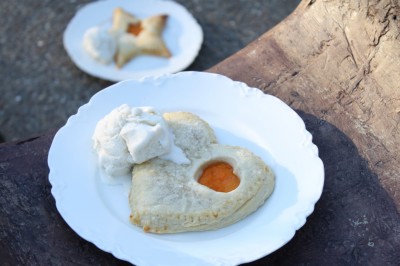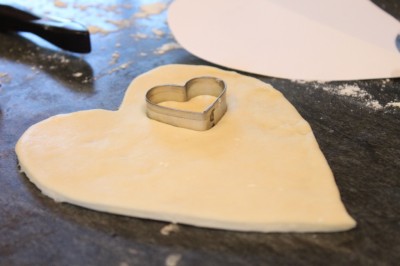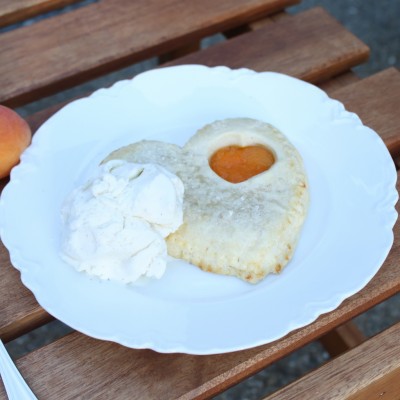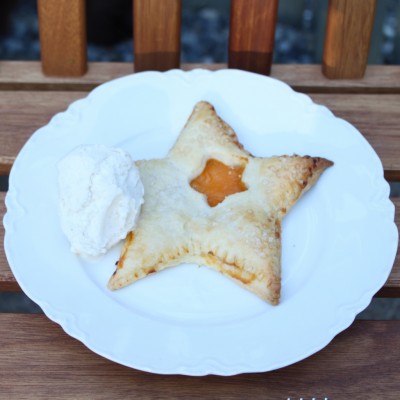 I first tried making these pies last summer after seeing them in a Williams-Sonoma catalog.  They were such a hit that they secured a permanent spot in my recipe folder.  They are like a cross between a piece of pie and a fruit-filled pastry. 
They are something that your kids can help make.  I don't have the specially designed hearts and stars pocket pie molds so I improvised with cookie cutters.  Use any shape that you want, keeping in mind that simpler shapes will be easier to work with.  I love that you can fill them with whatever fruit you would like, too.  Williams-Sonoma used cherries but I am partial to apricot so I made my own filling.  I like to let the fruit take center stage so I added only enough sugar to cut the tartness and enough water to make it thicker, but nothing else. 
As for the pie crust, any dough will work.  I used the Williams-Sonoma crust and it had a wonderful flavor.  I rolled the dough out very thin so that there wasn't too much pie crust per fruit filling with each bite.  Just be sure to chill the dough for several hours and use enough flour so that it is easier to work with. 

Author:
Itsy Bitsy Foodies
Prep time:
Cook time:
Total time:
These pocket pies are like a cross between a piece of pie and a fruit-filled pastry. Let your kids cut them into the shapes of their choice.
Ingredients
Pastry Dough
2½ cups flour
1 tsp salt
2 Tbsp sugar
2 sticks cold butter, cut into ½-inch cubes
6-8 Tbsp ice water
1 egg
Apricot Filling
2 cups of chopped apricots
1 Tbsp sugar, to taste
2 Tbsp water, to consistency
Instructions
Pastry Dough
Beat the flour, salt and 2 Tbsp sugar.
Add the diced cold butter cubes, beating for 30 seconds on low.
Then beat for 1½ minutes longer at a medium-low speed.
Add 6 Tbsp cold water and beat for 20 seconds on low.
If the dough is still crumbly, add more water, 1 tsp at a time.
Divide the dough in half and cover each ball with plastic wrap.
Let it chill in the refrigerator for several hours or overnight.
Apricot Filling
Heat the chopped apricots in a small saucepan over low-medium heat.
Add 1-2 Tbsp of water, and more as needed, as the apricots cook down.
Stir in the sugar to taste.
Cook the apricots until they make a chunky purée.
Remove them from the heat and let them cool.
Assembling the Pocket Pies
Working with one half of chilled dough at a time, roll the dough out until it is roughly ¼-inch thick.
Cut out two shapes per pie, leaving one solid and cutting out a decorative piece on the other.
Place the solid piece on a lightly greased cookie sheet.
Spoon 1-2 Tbsp fruit filling into the center and gently spread it around toward the edges.
Without the pocket molds, you don't want to pile to much into the center otherwise the fruit will seep out the edges when you press the top half on.
Place the piece with the decorative cut-out on top and gently press down around the edges, using a fork to crimp and seal the edges.
Repeat the process.
Beat one egg with 1 tsp water and brush the egg on the top crust of the pies.
Sprinkle the pies with granulated sugar if desired.
Bake them at 400 degrees for 15-20 minutes, or until the pie crust is light golden brown and the fruit filling is beginning to bubble out the decorative cut-out.
Let the pies cool and serve them with vanilla ice cream.
Recipe adapted from Williams-Sonoma Kitchen.
Tags: apricots, hand pie, pastry, pie, pie crust, pocket pie, vanilla ice cream