Print This Recipe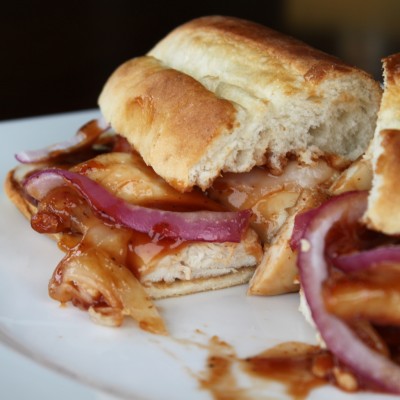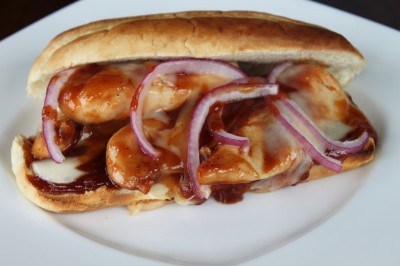 These BBQ sandwiches are easy to make and a great way to use up basic ingredients.  I often make them for a quick and satisfying lunch but they are also great for dinner, especially when you have a busy night planned.

Author:
Itsy Bitsy Foodies
Prep time:
Cook time:
Total time:
Make these chicken sandwiches sweet or spicy by using a blend of your favorite BBQ sauces.
Ingredients
4 sandwich rolls, French or sourdough
2 chicken breasts
¼ tsp salt
⅛ tsp black pepper
¼ tsp garlic powder
½ of a red onion, sliced
Grated Monterey Jack cheese
A blend of your favorite BBQ sauces
Spicy mustard, optional
Instructions
Pound the chicken breasts to roughly ½-inch thickness. (I have to admit that I sometimes skip this step if I am really in a hurry, but it really is better when the chicken breasts are thin and tender.)
Place the chicken breasts on a broiling pan and sprinkle them with salt, black pepper and garlic powder.
Broil the chicken for 5-7 minutes.
Flip the chicken and broil the breasts for another 5 minutes, or until the chicken is done. (Cooking time will vary depending on the thickness of the chicken pieces.)
Cut the chicken into strips.
Mix the BBQ sauces in bowl and stir in some spicy mustard if you want an extra kick.
Slice open the sandwich rolls and place them on a baking sheet.
Spread a couple spoonfuls of sauce on each half of the bread.
Then, toss the cooked chicken strips with the remaining sauce.
Arrange a quarter of the chicken strips on the bottom half of each sandwich roll. Sprinkle sliced onion on each of the sandwiches and then top them with a handful of grated Monterey Jack cheese.
Bake the sandwiches at 350 degrees for 10 minutes or until the cheese begins to melt. Finish by broiling them for a couple of minutes until the cheese is bubbling and the bread is lightly toasted.
Tags: BBQ chicken, BBQ sauce, chicken, chicken sandwich, Jack cheese, red onions, sandwich