Print This Recipe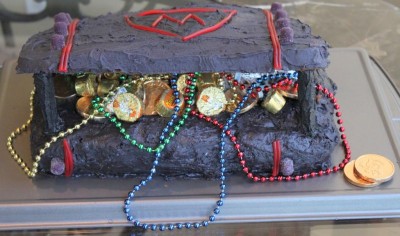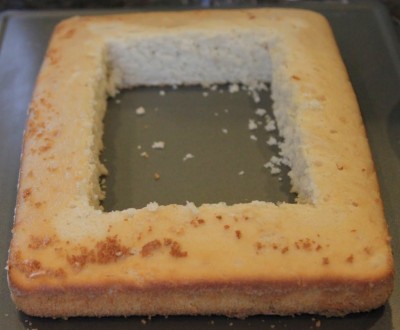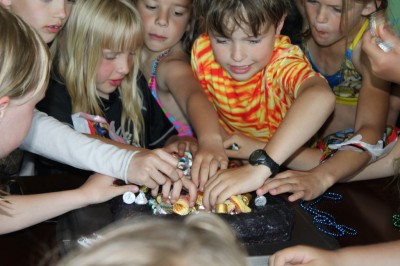 This Treasure Chest Cake is a cake and a piñata all in one.  The kids at my niece's birthday party loved the cake…and all of the candy, too! 
It turned out to be perfect for the pirate-themed party.  I decorated it with black and red but you could match it to any color scheme and theme.  I used red licorice rope to make a shield with my niece's initial on the top.
Because you will be cutting large portions of the cake and building with the pieces, it is important to have a firm, dense cake that doesn't crumble.  This is also critical when icing the cake so as to minimize the amount of cake crumbles that get mixed into the icing.  I found that this white cake worked very well.
Ingredients
2 cakes – 7×12″ (pound cake or a dense white cake work well)
Red licorice vines
2 pretzel rods
Black food coloring
Mardi gras necklaces
Gold coin chocolates
Other candies of your choice
Add black food coloring to the buttercream frosting until it reaches the desired gray/black shade.
Cut the center out of one of the cakes, leaving roughly a 2-inch border on each side to form the rectangular treasure chest.  Set the center piece aside*.  Coat the bottom cake with a preliminary layer of grayish-black icing. 
Slice a one or two-inch layer off the top of the other cake and set this piece aside.  This top will become the lid of the treasure chest.  With the bottom layer, cut out the center of the cake so that it lines up with the base cake.  Stack it on the base layer that is already iced and coat it with a layer of grayish-black icing.  If you are working in a warm climate, you can place the cake in the refrigerator to set at this point while you work with the lid of the treasure chest.
Coat the top layer of cake (the lid to the treasure chest) with grayish-black icing.  Decorate the lid as desired, using red licorice ropes or other candies of your choice.
Coat two pretzel rods with black icing and set them aside until you are ready to assemble the cake.
To assemble the cake, fill the open space in the treasure chest with candy.  Press the frosted pretzel rods into the front corners of the treasure chest.  Lay the lid on top, letting it rest on the candy.  The iced pretzel rods will hold it up in front, like a treasure chest that is cracked open.
Before you cut the cake, remove the lid of the treasure chest and let everyone dive for the candy.  Then slice the cake and enjoy!
*You can decorate the center piece as desired.  To stick with the pirate theme, I made Cherry & Sword-Speared Cake Squares.
My Treasure Chest Cake was inspired by an idea from: Cooking for Kids Collection (3 Cook Books in 1)
Tags: buttercream frosting, cake, candy, licorice rope, pretzels, treasures