Print This Recipe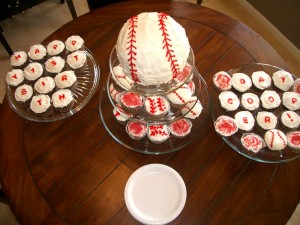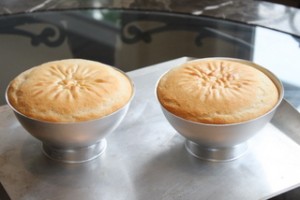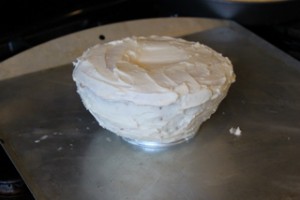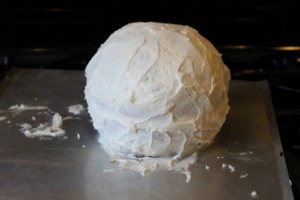 This giant baseball made the perfect individual birthday cake for my son's 1st birthday party.  My son dived into the whole cake so I made cupcakes for the guests, decorating them with baseballs and red sprinkles.  You can also make a great soccer ball cake with this pan.
Ingredients
4 1/2 cups of cake batter (pound cake or a dense white cake work well)
Chocolate Cake, for the cupcakes
Red sprinkles
Red gel icing tube
1 red Fruit-by-the-Foot
Baseball chocolate candy molds with the colored chocolate (Michael's has a good selection of molds and chocolates.)
Baseball Cake:
I used a Wilton cake pan made for 3D sport balls.  It came with two semi-circular pans and instructions for decorating different sports balls.
I followed the instructions that came with the cake pan, pouring 2 1/4 cups cake batter into each pan, baking a basic white cake in the two semi-circular pans. 
Once the cakes are completely cooled, cut the bottom off of one cake half so that the bottom of the ball will rest on a flat surface.  Ice the two halves together using buttercream frosting.  Then generously ice the outside of the baseball with white buttercream frosting.  With a red gel icing tube, pipe the red seams on the baseball. 
Cupcakes:
I baked the cupcakes and iced them with buttercream frosting.  I decorated them as follows, making an assortment of four different cupcakes:
I simply used red sprinkles on some 
I made baseball chocolates using chocolate candy molds for others
I spelled "Happy 1st Birthday, Cooper!", using letters cut out of red Fruit-by-the-Foot
I piped baseballs using the red gel icing on the rest. 
It made for a nice assortment of red, white and baseballs that went well together!
Tags: baseball, buttercream frosting, cake