Print This Recipe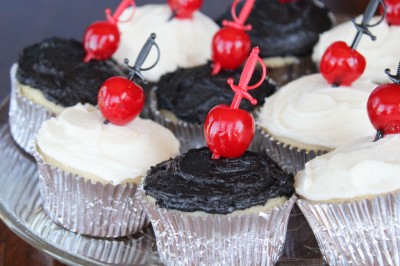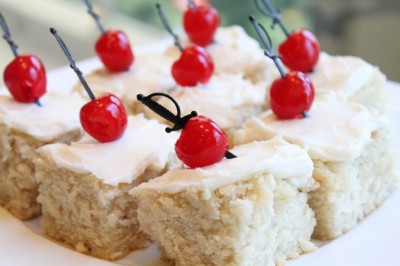 To coordinate with the pirate-themed treasure chest birthday cake that I made for my niece's birthday party, I opted for a simple decoration of party swords and maraschino cherries.  The cake squares are made of the center of the treasure chest cake that was cut out and set aside.  The cupcakes and cake squares looked great with the simple and striking combo of red, white and black.
Ingredients
White cake squares
Cupcakes (white cake or chocolate cake)
Black food coloring
Maraschino cherries
Black and red drink/party swords
Ice the cake squares and cupcakes with black and white buttercream frosting.  Poke a sword through the  maraschino cherries and then spear the frosted cupcakes and cake squares.  I used a black sword with the white frosting and a red sword with the black frosting.
Tags: buttercream frosting, cake, maraschino cherries, party swords