Fri, Jun 6, 2014
Around the World, Belgium, Chocolate, Desserts, Dishfolio, Europe, Healthy Aperture, Itsy Bitsy Foodies Sightings, Miscellaneous, Search by Course, Snacks, Tasteologie

Print This Recipe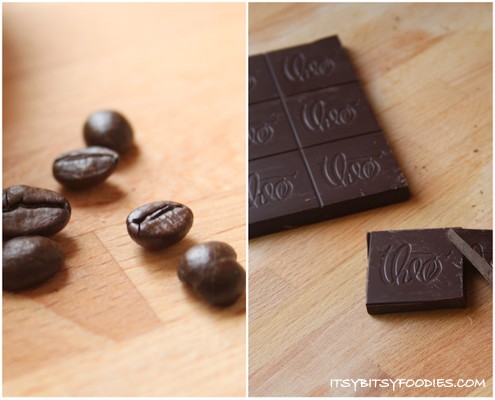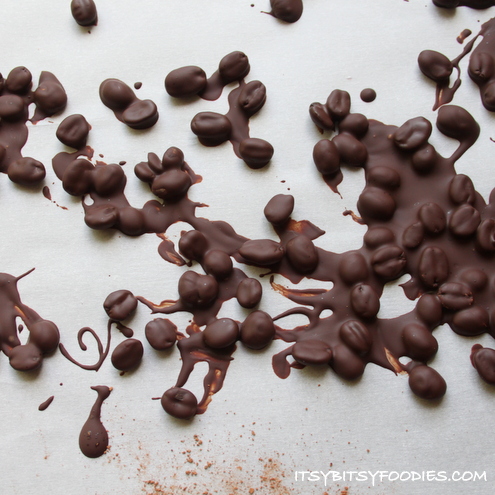 I have had so much fun cooking and baking with my Puro Fairtrade Coffee samples.  After the initial pairing with Herman coffee cake I moved on to making chocolate-covered coffee beans, the perfect little afternoon pick-me-up.  You can even make them with decaf coffee beans if that works better for you.
In theory, you can use any coffee or espresso bean paired with your favorite chocolate.  Because I was using Puro Fairtrade coffee beans I thought it would defeat the purpose to use just any chocolate, so I chose Theo Chocolate (A Pacific Northwest favorite based out of Seattle, Washington), and another Fair Trade choice.

Chocolate-Covered Coffee Beans
Author:
Itsy Bitsy Foodies
Simply dip your favorite coffee bean into the melted chocolate of your choice for the perfect afternoon pick-me-up.
Ingredients
Coffee or espresso beans (such as Puro Fairtrade Coffee)
Chocolate (such as Theo Fairtrade Dark Chocolate Bar)
Cocoa powder for dusting, optional
Instructions
In a double boiler (or a small pan set in a larger pan that has an inch or so of simmering water), melt the chocolate.
Pour some of the beans into the melted chocolate to fully coat them with chocolate and remove them from the chocolate with a slotted spoon or fine straining spoon.
Toss them in cocoa powder if you want a dusting of cocoa on the top coat.
Place the chocolate-covered beans on a sheet lined with waxed paper.
Let the chocolate harden and store them in a sealed container.
Tags: chocolate, chocolate-covered coffee beans, chocolate-covered espresso beans, coffee, coffee beans, dessert, fairtrade chocolate, Puro Fairtrade Coffee