Sun, Jun 8, 2014
Breakfast, Cakes, Cupcakes & Brownies, Desserts, Dishfolio, Foodgawker, Healthy Aperture, Itsy Bitsy Foodies Sightings, Pancakes, Waffles & More, Search by Course

Print This Recipe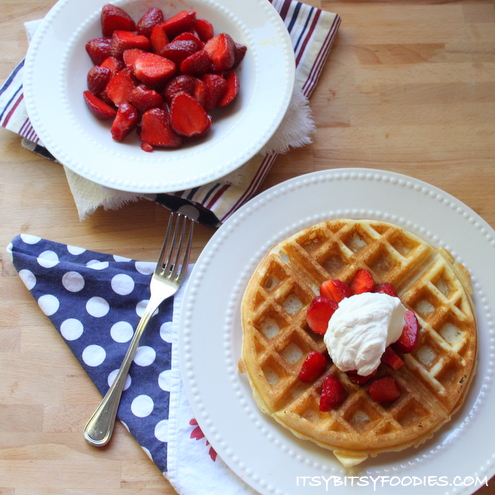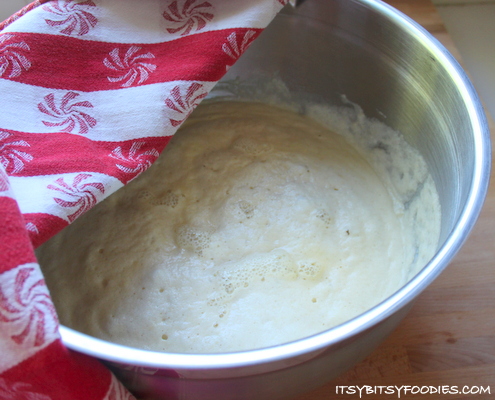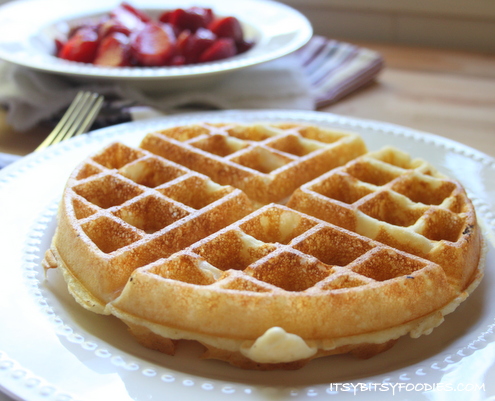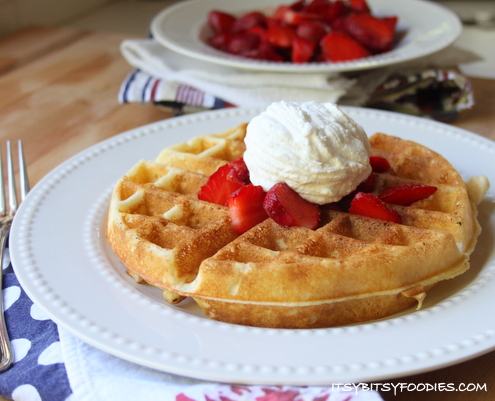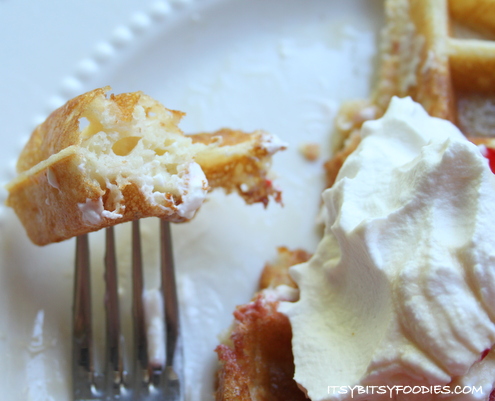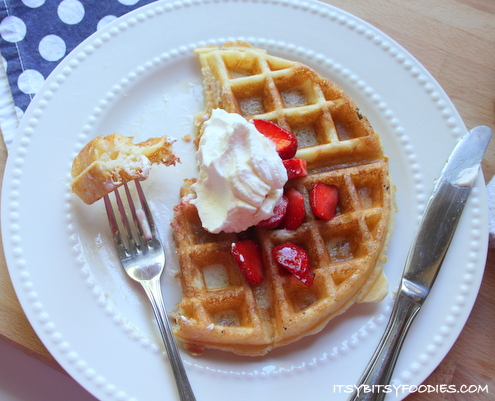 In my opinion, summer officially starts with the first u-pick strawberries of the year.  And with the first strawberries, some version of strawberry shortcake is always quick to follow.  This summer we kicked it off with strawberry shortcake waffles the morning after our u-pick adventure.  (As an aside, it really was an adventure as it always is with a 3 and 5-year old in tow.  I have to say, however, that this year marked the start of a new trend because the boys actually helped pick more than they sampled and at the end of the day we took home 3 large buckets – nearly 30 pounds – of berries.)
But back to our strawberries and cream waffles.  Similarly to the peaches and cream waffles that I made a few years back, we topped our yeast-leavened Belgian waffles with mounds of juicy Hood strawberries and homemade whipped cream.  The berries were already plenty sweet and juicy so we simply sliced them, no added sugar necessary.  My chocolate chip banana oat waffles would be another yummy option.  To be honest, I don't think you can go wrong with your waffle choice because, let's face it, the waffles are really just a vehicle to get the strawberries and homemade whipped cream into your mouth!
Once you've topped your waffle with beautiful red berries and whipped cream, all you have to do is eat and repeat.

Strawberry Shortcake Waffles
Author:
Itsy Bitsy Foodies
Prep time:
Cook time:
Total time:
Top your waffles with strawberries and whipped cream. Eat and repeat.
Ingredients
Yeast-Leavened Belgian Waffles
2½ cups flour
3 Tbsp sugar
1½ tsp yeast
1¼ tsp salt
2 cups very warm milk
3 eggs, separated
⅓ cup butter, melted
1 tsp vanilla extract
Homemade Whipped Cream
1 cup heavy whipping cream
½ – 1 tsp vanilla, to taste
1½ tsp sugar, to taste
Strawberries, sliced
Instructions
Yeast-Leavened Belgian Waffles
Mix together the flour, sugar, yeast and salt in a large bowl.
In a separate bowl, whisk together the milk, egg yolks, butter and vanilla.
Add the wet ingredients to the dry ingredients, mixing until the large lumps are moistened.
In a third bowl, beat the egg whites into soft peaks.
Fold the egg whites into the batter.
Cover the bowl and let the batter rise in a warm, draft-free place for 1 hour or until light and bubbly. You can also refrigerate the batter overnight at this point.
Stir down the batter and then pour onto the hot, greased waffle iron to bake according to the waffle maker's cooking instructions.
Homemade Whipped Cream
Mix the ingredients together and beat on high using a hand-held mixer or a KitchenAid mixer with the whisk attachment. It will take several minutes for the liquid cream to transform into fluffy peaks.
If you beat the whipping cream until it is too stiff you can add more cream and continue beating.
Strawberry Shortcake Waffles
Top your waffles with sliced strawberries, homemade whipped cream and pure maple syrup (if desired).
Eat and repeat.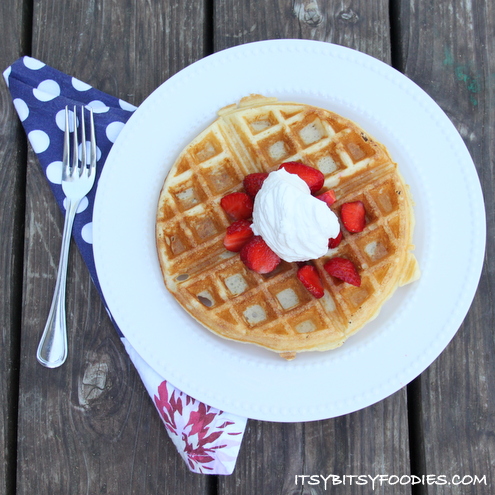 Tags: Belgian waffles, breakfast, brunch, dessert, homemade whipped cream, Hood strawberries, strawberies and cream, strawberries and cream waffles, strawberries and whipped cream, strawberry shortcake, upick strawberries, waffles, yeast-leavened waffles