Sun, Feb 9, 2014
Around the World, Belgium, Breakfast, Cakes, Cupcakes & Brownies, Desserts, Europe, Foodgawker, Fun Family Activities, Holidays, Itsy Bitsy Foodies Sightings, Pancakes, Waffles & More, Search by Course, Valentine's Day

Print This Recipe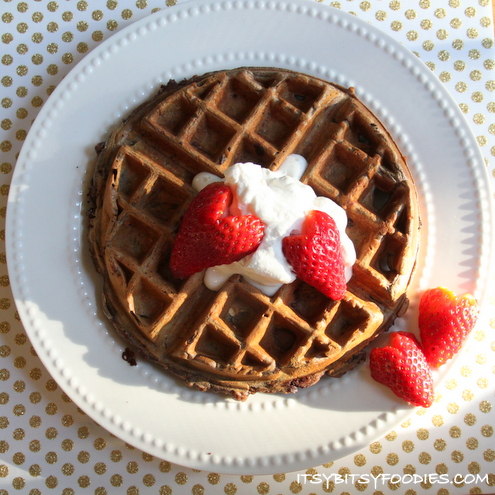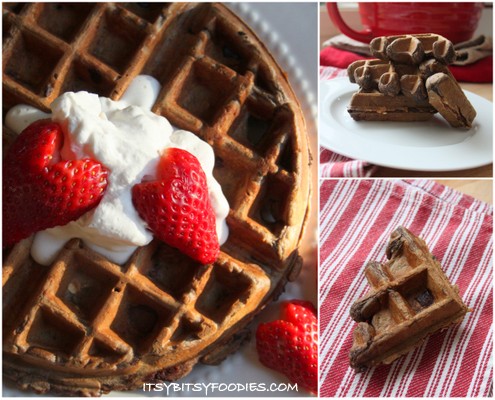 Chocolate and hearts, a quintessential  Valentine's Day treat.  With the big day quickly approaching I wanted to make a special breakfast.  Chocolate waffles topped with homemade whipped cream and strawberry hearts did the trick.  This visually-appealing Valentine's breakfast treat can easily pass for a dessert, too.  If you don't have strawberries you can trim each quarter wedge of waffle into a heart.  For another waffle that can pass for a dessert, try my Chocolate Chip Banana Oatmeal Waffles.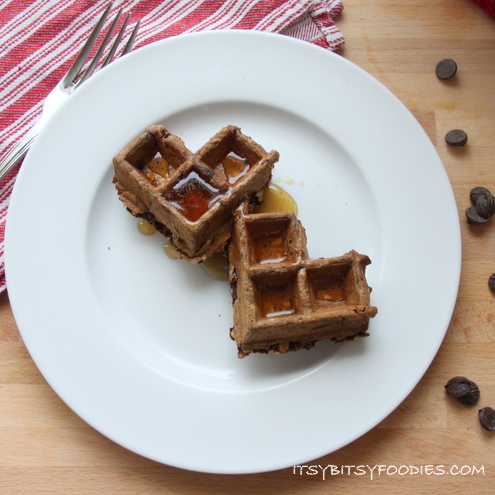 *I used my Pomegranate Oatmeal Waffles as a guideline and referenced Alton Brown's Chocolate Waffles when determining the amount of chocolate to use.
**I've listed the sugar in the recipe for reference.  These days I omit the sugar in my waffles and pancakes because I've found that they are plenty sweet once you add syrup, berries, jams and/or whipped cream.

Chocolate Waffles with Strawberry Hearts
Author:
Itsy Bitsy Foodies
Prep time:
Cook time:
Total time:
Chocolate waffles (with or without strawberry hearts) are a breakfast treat that can easily pass for a dessert.
Ingredients
Chocolate Waffles
1¾ cups flour
½ cup cocoa powder
3 tsp sugar (optional)
½ tsp salt
2 tsp baking soda
1 cup oatmeal, optional
2 eggs
1¼ cup buttermilk
⅓ cup oil
1 tsp vanilla
¼ - ½ cup chocolate chips
Strawberries, halved and trimmed like hearts
Whipped Cream
½ pint of heavy whipping cream
½ – 1 tsp vanilla, to taste
½ Tbsp sugar, to taste
Instructions
Mix the dry ingredients.
Beat in the eggs, buttermilk and oil.
Stir in the chocolate chips.
Pour roughly 1 cup batter onto a lightly greased waffle iron that has been heated according to the manufacturer's instructions.
Close the lid and cook the waffle.
Garnish the cooked waffles with whipped cream and strawberry hearts.
Strawberry Hearts
Slice the strawberries in half.
Remove the stem portion by cutting out a "V" with the stem.
Round it out to shape the top like the curves of a heart.
Whipped Cream
Mix the ingredients together and beat on high using a hand-held mixer or a KitchenAid mixer with the whisk attachment. It will take several minutes for the liquid cream to transform into fluffy peaks.
If you beat the whipping cream until it is too stiff you can add more cream and continue beating. This is also a good trick if you are using leftovers the next day. Leftover whipped cream often starts to separate and lose its form. Simply add more cream (if need be) and whip it again.
Tags: Belgian waffles, chocolate chips, chocolate oatmeal waffles, chocolate waffles, cocoa powder, homemade whipped cream, oatmeal chocolate waffles, strawberry hearts, Valentine's day waffles, waffles