Print This Recipe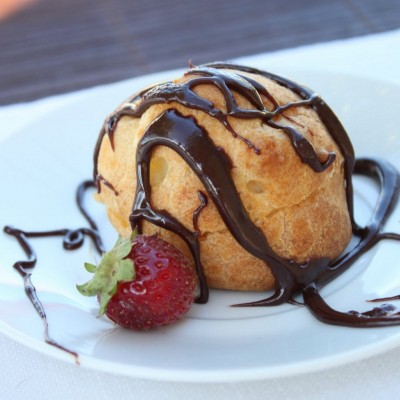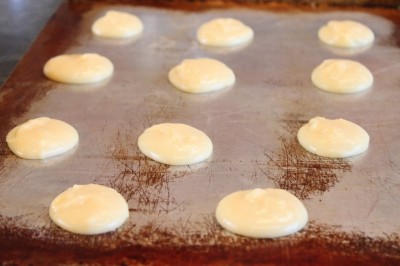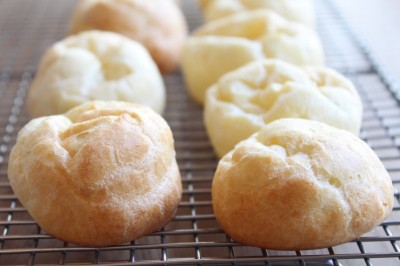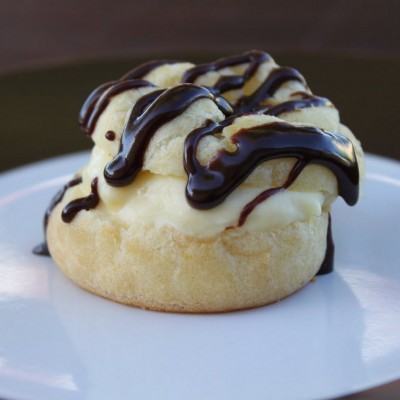 I recently made cream puffs for the first time using my Grandma's recipe.  My family affectionately calls them Cream Puffs a la Grandma Thelma.  It's a great recipe because the cream puffs are not only delicious but they are simple to make.  You can either slice the pastry puffs in half and fill them with cream or insert an icing tip in the bottom of them and fill them with cream.  The vanilla pudding cream filling is incredible and is the perfect complement to fresh fruit or chocolate cupcakes.
Ingredients
3/4 cup water
1/3 cup butter
1/8 tsp salt
3/4 cup flour
3 eggs
3 ounces vanilla pudding mix
1 1/2 cups milk
1/2 cup heavy whipping cream
2 Tbsp powdered sugar
1/2 tsp vanilla
1/2 cup semi-sweet chocolate chips
1 Tbsp butter
1 Tbsp corn syrup
1 1/2 Tbsp milk
In a small saucepan, bring the water, butter and salt to a boil over medium heat.  Remove the mixture from the heat and immediately stir in the flour, beating it until the mixture forms a ball and leaves the side of the pan.  (This process usually takes 1-2 minutes.)  Add the eggs one at a time, and beat the dough until it is smooth, shiny and satiny.
Drop the dough by teaspoonful onto an ungreased cookie sheet and bake the pastry puffs at 400 degrees for 25-35 minutes, until they are puffed and golden.  They should sound hollow when tapped.  You can also make them oblong-shaped for eclairs.
For the custard filling, make the vanilla pudding, following the directions on the pudding box, but using 3 ounces of vanilla pudding mix and 1 1/2 cups milk.  Once the pudding has cooled, cover it with waxed paper and let it chill in the refrigerator.
Make the whipped cream by beating the heavy whipping cream with powdered sugar and vanilla, using a hand mixer, until stiff peaks form.  Fold the whipped cream into the chilled vanilla pudding and refrigerate the cream filling until it is cold.
Right before you are ready to serve the cream puffs, make the chocolate glaze by melting the chocolate, butter, corn syrup and milk in a double boiler or in a small saucepan over low heat.  Stir the chocolate sauce until it is shiny and smooth.
To assemble the cream puffs, slice open the pastry puffs and spoon vanilla pudding cream filling into the bottom half of each one.  Place the top of the pastry puff on the vanilla filling and drizzle chocolate sauce over the cream puff.  You can also spoon the vanilla pudding cream filling into an icing bag and insert its tip into the bottom of the pastry puff, filling it with vanilla cream and leaving the cream puff whole.
Tags: butter, vanilla, vanilla pudding, whipping cream