Sun, Jul 11, 2010
Appetizers, Around the World, Disguising Healthy Foods, Itsy Bitsy Foodies Sightings, Main Dishes, North America, Quick n' Easy, Search by Course, TasteSpotting, United States

Print This Recipe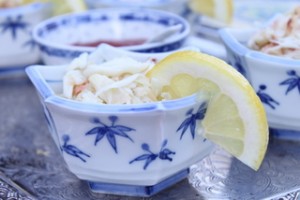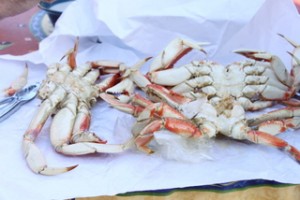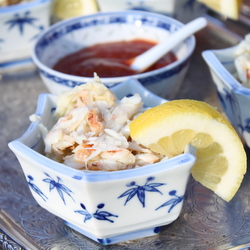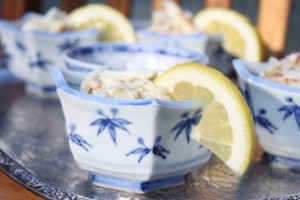 Dungeness crab is my favorite species of crab.  Sure, I'm partial because I grew up in Port Angeles, Washington, near the Dungeness (the namesake of the crab and the place where they were first commercially harvested).  But more importantly, I love the firm, mild-flavored meat that is relatively easy to remove from the shell. 
While home visiting my family, we almost always have Dungeness crab.  Usually, our meal consists of the crab as the centerpiece and we all sit around shelling and eating the crab.  This time, however, my dad decided to make crab cocktail.  It was the perfect light and refreshing appetizer for a warm summer night.  It is easy to make and great for a dinner when you have been busy in the sun all day.  The only time-consuming part is shelling the crab but this is a step that can be done in advance as long as you keep the crab meat covered and chilled until you are ready to serve it. 
My dad gave me rough quantities for the ingredients in his homemade cocktail sauce (the recipe is given below) but he makes it to taste each time.  My family loved the kick that the horseradish gave the sauce but if you don't like spice, you can reduce the amount of horseradish or omit it altogether.
Ingredients
2-3 Dungeness crabs, cooked and cleaned
1/2 cup ketchup
1/2 cup Heinz chili sauce
1 Tbsp horseradish
A couple drops of Worcestershire sauce, to taste
1 lemon
Chill 4-8 small bowls in the refrigerator while you shell the crab.  Divide the crab meat into the small bowls and return them to the refrigerator until you are ready to serve them.  The serving size will vary depending on whether you are serving it as an appetizer or a light main course.
To make the cocktail sauce, mix the ketchup, chili sauce, horseradish, worcestershire sauce and the juice of 1/4 lemon in a bowl.  You can adjust the ingredients to taste and add garlic powder or other seasonings as desired.  Cover the sauce with plastic wrap and chill it in the refrigerator until you are ready to serve the crab cocktail.
Slice the remaining 3/4 lemon into thin rounds and cut each round in half.  Cut a small slit in the middle of each half round and place them on the rim of the crab bowls. 
Serve the crab cocktails chilled.
Click here to view a guide for selecting seafood.
Tags: chili sauce, Dungeness crab, horseradish, ketchup, lemon, Worcestershire sauce