Print This Recipe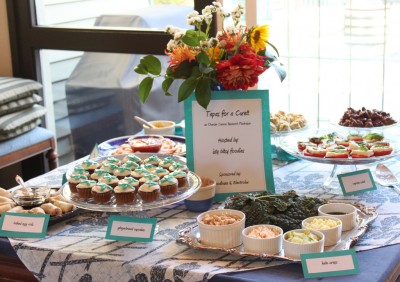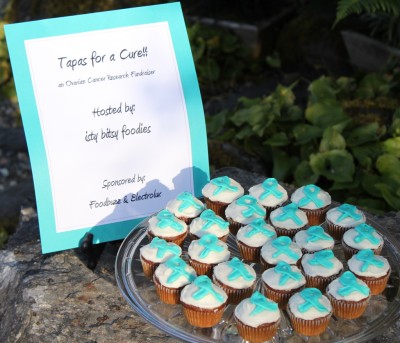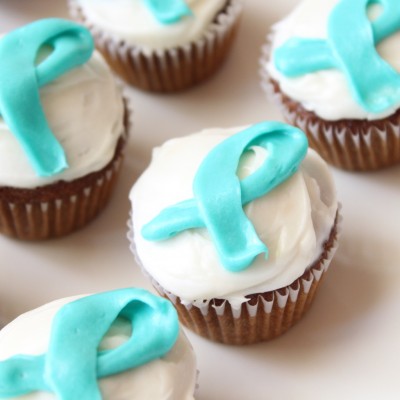 September is Ovarian Cancer Awareness Month so for this month's 24×24 event, Foodbuzz partnered with Electrolux to help raise money for the Ovarian Cancer Research Fund.  In addition to sending money to the 24 selected Featured Publishers to host an event, they matched our event stipend to make a donation of $250 in each of our names to the Ovarian Cancer Research Fund.  Thank you to Foodbuzz and Electrolux for such an amazing opportunity and for donating to such a worthy cause.
The Ovarian Cancer Research Fund works to find a cure for ovarian cancer as well as to educate women in the early detection of this disease which is the 5th leading cause of cancer death among U.S. women.  The mission of OCRF is "to fund research to find a method of early detection and ultimately a cure for ovarian cancer."
I hosted an open house for family and friends with a theme of Tapas For a Cure.  I made a variety of sweet and savory tapas that each highlighted at least one "super food" or cancer-fighting ingredient. 
On the menu: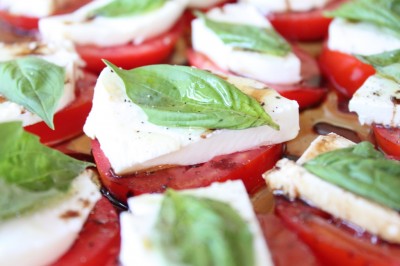 Tomatoes* (Roma or any other variety)
Fresh basil leaves
Fresh mozzarella
Olive oil
Balsamic vinegar
Sea salt, to taste
Black pepper, to taste
Cut the tomatoes and the fresh mozzarella cheese into 1/4-inch slices.  Arrange the tomato slices on a platter and place the fresh mozzarella slices on top of them.  Top with basil leaves.  Drizzle olive oil and balsamic vinegar over the tomatoes.  Season with a dash of sea salt and black pepper, to taste.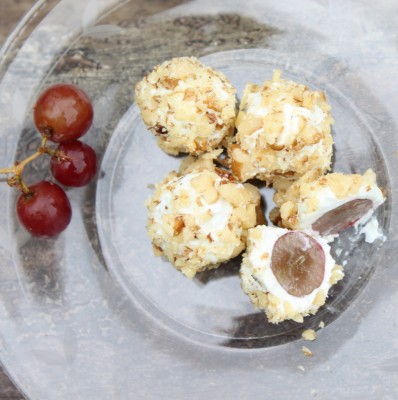 Red grapes*
1/2 cup light cream cheese
6 Tbsp – 1/2 cup blue cheese crumbles, to taste
Chopped walnuts*
Rinse the grapes and let them dry completely on a pan, patting them dry with a paper towel if necessary.
Mix the cream cheese and the blue cheese, adding enough blue cheese to taste and mashing the two cheeses together to form a creamy spread.
Spreading the cheese mixture with your fingers, coat each grape with a thin layer of cheese.  Then roll the grapes in the chopped walnuts.  Serve them immediately.
Spinach & Feta Chicken Meatballs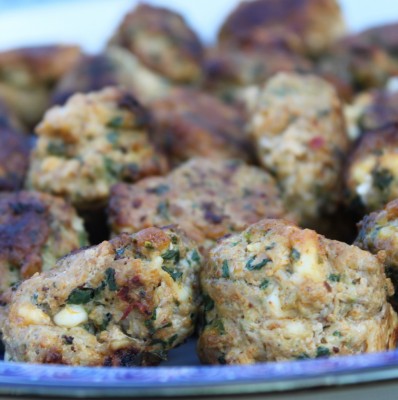 1 pound ground chicken
1 Tbsp chopped parsley
3 Tbsp finely chopped spinach*
3/4 tsp garlic* powder
1 tsp salt
1/4 tsp black pepper
1 tsp paprika
1/2 tsp crushed red pepper
1/2 tsp cayenne pepper
3/4 tsp fennel seeds
1/4 cup feta cheese crumbles
Mix all of the ingredients together and form the meat into balls. 
Lightly coat a pan with olive oil and heat it over medium heat.  Cook the meatballs for several minutes on each side until they are nicely browned.  Then turn the heat to low and cover the pan to allow the meatballs to cook all the way through.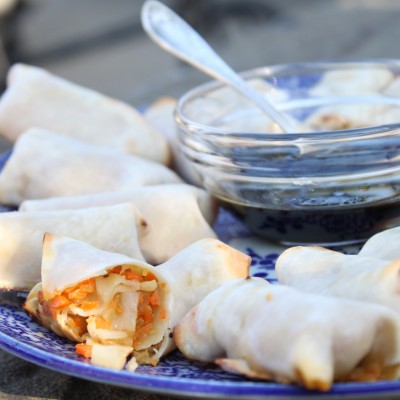 2/3 cups coarsely chopped celery
2/3 cups coarsely chopped carrots
2 cups shredded cabbage*(such as Napa)
Pulse the vegetables in a Cuisinart to form a finely chopped mixture.  Place the mixture in a bowl and cover with plastic wrap.  Vent by poking holes in the wrap with a fork.  Heat in a microwave for 5 minutes; drain the liquid.
 2/3 cups chopped onion*
1 tsp chopped ginger* (or more to taste)
1-2 clove garlic*, chopped
½ lb ground turkey or chicken, cooked (optional)
Coat the bottom of a pan with oil and heat over medium-high heat.  Sauté the onion, ginger and garlic for 2 minutes.  Add browned ground meat if desired.  If using meat, I add 1-2 more cloves of garlic and 1-2 more teaspoons of chopped ginger.  I also season the meat with salt and pepper, to taste.
Remove from heat and stir in the cabbage mixture, 1 ½ Tbsp soy sauce and ¼ tsp pepper.
Cover and chill for 15 minutes.
Place 3Tbsp filling in the center of each egg roll wrapper (or 1 Tbsp filling for smaller wonton wrappers), with the corner pointing toward you.
Fold the lower corner up; then fold the right and left corners across.  Brush the top corner with some egg white to moisten.  Roll up the wrappers. 
Place the egg rolls seamside down on a cooking sheet coated lightly with cooking spray.  Brush the tops of the egg rolls with oil or egg white so that they don't dry out while baking.
Cook them in an oven preheated to 425 degrees for 10 min or until golden.
Dipping Sauce:
1 Tbsp rice vinegar
1 tsp low-sodium soy sauce
1 drop of sesame oil
1-2 drops of hot chili oil
I use rice vinegar as the base but the ratio of ingredients is approximate.  You can adjust it according to your taste.
This should be plenty of sauce for the entire batch of baked egg rolls but you can make more as necessary.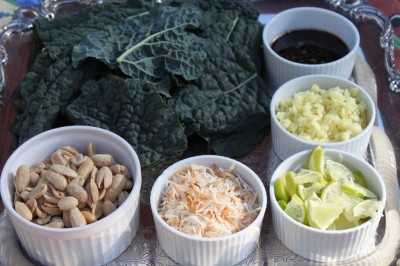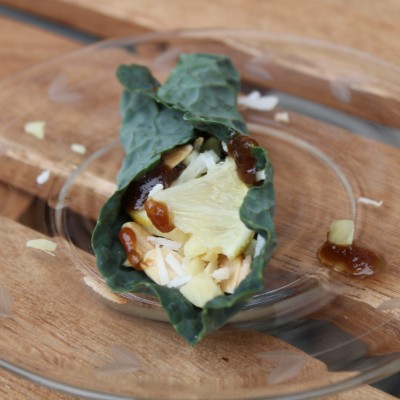 Kale* leaves, cut into squares
Peanuts*
Shredded coconut*, toasted
Limes, scored and thinly-sliced and quartered
Ginger*, chopped
Red onion*, finely chopped, optional
Honey-soy sauce:
3 Tbsp honey
1 Tbsp soy sauce
1/2 Tbsp balsamic vinegar
1/2 tsp garlic* powder
1/4 tsp ginger* powder
Tamarind sauce:
1/2 cup tamarind paste
1/2 cup brown sugar
2 cups boiling water
To toast the coconut, spread the shredded coconut on a baking sheet and bake it at 375-400 degrees.  It will only take a few minutes so watch the coconut closely to make sure it doesn't burn.  Stir the coconut frequently so that it toasts evenly. 
Score the limes lengthwise.  Then slice the limes into thin rings.  Quarter the slices so that half of each quarter has the rind and half does not.  (By removing some of the rind, the lime quarters will not overwhelm the wraps.)
To make the tamarind sauce, pour the boiling water over the tamarind paste and let it steep for 20-30 minutes until it softens, mashing it occasionally to help it dissolve into the water.  Then place the mixture through a sieve and discard the fibrous chunks.  Stir the brown sugar into the remaining tamarind liquid and bring it to a boil.  Let the sauce simmer for 10-15 minutes until it reaches a syrupy consistency.
Let each person assemble the wraps by sprinkling peanuts, toasted coconut, chopped ginger, chopped onions and limes slices on the kale squares.  Drizzle some of the sauce over the ingredients and roll or fold up the kale to eat.
Shrimp Cocktail with Homemade Cocktail Sauce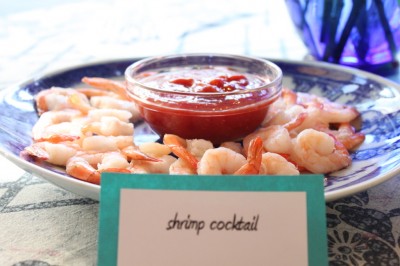 Shrimp*, cooked and peeled
1/2 cup ketchup
1/2 cup Heinz chili sauce
1 Tbsp horseradish
A couple drops of Worcestershire sauce, to taste
The juice of 1/4 lemon
To make the cocktail sauce, mix the ketchup, chili sauce, horseradish, worcestershire sauce and lemon juice in a bowl.  You can adjust the ingredients to taste and add garlic powder or other seasonings as desired.  Cover the sauce with plastic wrap and chill it in the refrigerator until you are ready to use it.
Roasted Garlic & Roasted Red Peppers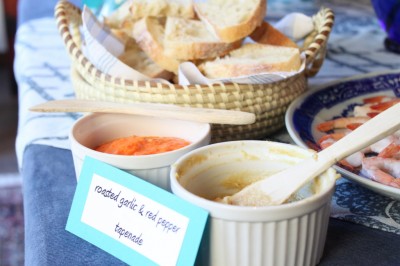 To roast the garlic, wrap the whole bulb of garlic in foil and bake it at 400 degrees fr 30-40 minutes until it is soft.  Let it cool for 5-10 minutes, until it is easy enough to handle.  Then slice the top off of the bulb and squeeze the roasted garlic out of each clove.  Mash them together to form a spread.
To roast the red peppers, place them on a pan and broil them until the skin becomes charred on all sides.  Remove the peppers from the oven and place them in a paper bag for 10 minutes.  Then peel off the skins and finely chop or purée the pepper flesh.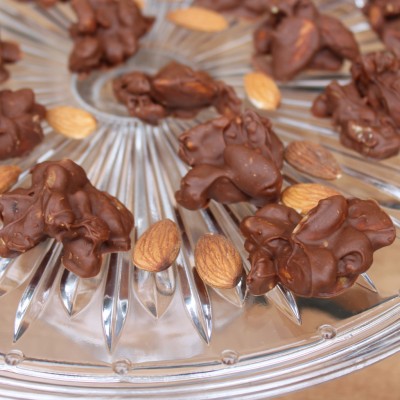 2 cups butterscotch chips
1 cup semi-sweet chocolate chips
1 cup peanuts*
1 cup almonds*
1 cup walnuts*
Place the butterscotch and chocolate morsels in a bowl.  Microwave them for 3 minutes and then stir them for 1 minute until they are completely melted.  Stir in 3 cups of nuts, such as peanuts, almonds and coarsely-chopped walnuts.  I like to use a mixture of nuts. 
Drop by teaspoonful on to waxed paper and let them rest until hardened, chilling them in the refrigerator to set if necessary.  Refrigerate them in a jar or other sealed container.
BlueberryCoconut Macaroon Tartlets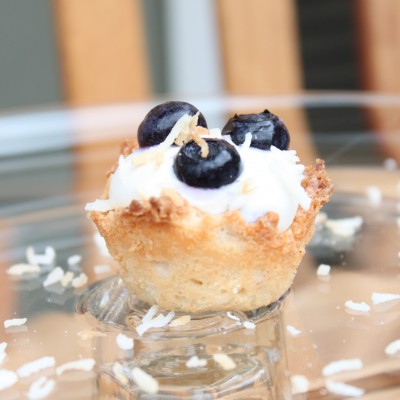 2 cups coconut* flakes
1/2 cup sugar
1/4 cup plus 2 Tbsp flour
1 tsp vanilla extract
2 egg whites
Blueberries*, fresh or frozen
To make the coconut tartlets, combine the coconut, sugar, flour, vanilla and egg whites in a bowl.  Spoon the mixture into greased mini muffin tins.  Press the coconut mixture into the bottom of the pan and up the sides to form a thin crust. 
Bake the macaroon tart shells at 375 degrees for 15 minutes or until the edges are browned.  (Be careful not to over bake them.)  Let them cool for a couple of minutes on a wire rack. 
Gently run a knife around the edges to loosen the tart shells from the pan and then remove them from the muffin tins.  Let them cool completely on a wire rack.  Store the macaroon tart shells in a sealed container.  They can be made in advance.
To assemble the tartlets, spoon homemade whipped cream into the coconut macaroons and top with roughly 3 blueberries per tartlet.  Garnish with toasted coconut if desired. 
This recipe makes approximately 25-30 tartlets.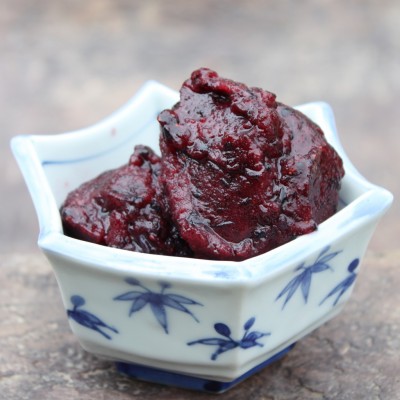 1 pound blueberries*
1 cup water
1 1/2 cups sugar
The juice of 1/2 lemon
To make the simple sugar syrup, bring the water to a boil in a small saucepan.  Add the sugar and stir it constantly until the sugar dissolves.  Let the syrup cool.  (The syrup can be made in advance and stored in a sealed container in the refrigerator.)
Rinse the blueberries with cold water.  Purée the berries in a food processor or handheld blender.  Stir in the lemon juice and then add the simple sugar syrup to taste.
Churn the blueberry mixture in an ice cream maker, following the instructions of your ice cream maker.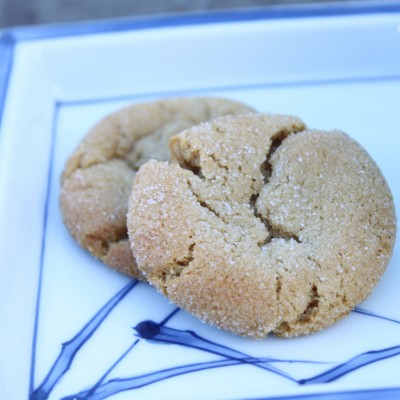 1 cup sugar
¾ cup shortening or butter
1 egg
¼ cup molasses
2 cups flour
1 Tbsp ginger* powder or freshly-grated ginger*
1 tsp cinnamon
2 tsp baking soda
½ t salt
Cream the sugar and the shortening (or butter).  Add the egg and mix in the remaining ingredients. Roll the dough into balls and roll the balls in sugar.  Place the balls on a greased baking sheet.  Flatten them with the bottom of a cup (one that is smooth, without any rims or edges) that is dipped in sugar each time.  Bake the cookies at 350 degrees for 10 minutes or until they done.  They will set as they cool so if you want chewy cookies, remove them from the oven when they still look soft and lightly golden around the edges.
TIP: Using butter makes the cookies flatter and thinner, but they are still incredibly tender and moist as long as they are not over baked.  If you are using fresh ginger, the cookies will not have as strong of a ginger flavor because the 1 Tbsp of grated ginger is not as concentrated as the powder.  Increase the amount of fresh ginger if you want a stronger ginger flavor.
Gingersnap Vanilla Ice Cream Sandwiches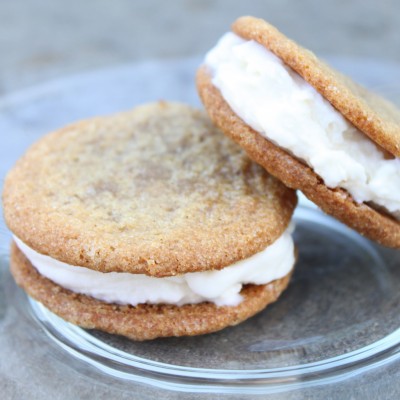 Homemade French vanilla ice cream (or another ice cream of your choice)
Let the ice cream set out for a few minutes until it is soft enough to work with.  Spoon the ice cream onto the bottom of a ginger snap and press another ginger snap onto the ice cream, gently pressing down until the ice cream reaches the edges of the cookies.  Take a knife and lightly smooth the ice cream edges to make it uniform.
Serve them immediately.  If you are making them in advance, place a baking sheet covered with waxed paper in the freezer, ensuring that it is laying flat.  As you finish each sandwich, put it directly in the freezer.  Once you have finished making the sandwiches, let them harden on the baking sheet.  Then put them in a sealed container, placing waxed paper between each sandwich to prevent them from sticking together.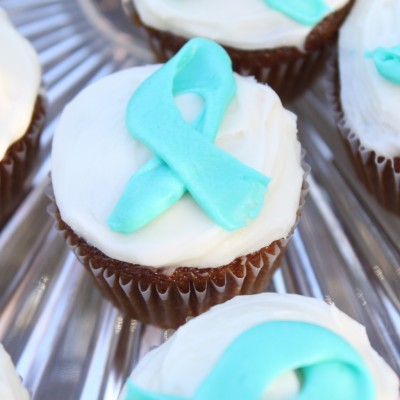 1/2 cup butter
1 cup brown sugar
1/4 tsp cloves
1 tsp cinnamon
1/2 tsp allspice
1 tsp ginger* powder or freshly-grated ginger*
2 tsp baking soda
1 cup boiling water
2 1/2 cups flour
1 cup molasses
2 beaten eggs
1/2 tsp salt
Cream the butter and the sugar. Add the molasses and mix well.  
In a separate bowl, mix the baking soda with the boiling water.  Add the soda water to the molasses mixture and beat well.  Then add the remaining ingredients and stir until a thin batter forms.  Pour the gingerbread batter into a greased 9×13 pan or greased/lined muffin or mini-muffin pans.  Bake the gingerbread at 350 degrees for 10-15 minutes (30-35 minutes for a 9×13 pan) or until a toothpick inserted comes out clean and the tops spring back to the touch. 
1 package cream cheese
1/2 cup butter, softened
2 tsp vanilla
4 cups powdered sugar
Mix the ingredients to form a creamy frosting.
Reserve approximately 1/3 of the cream cheese frosting to color teal for the ovarian cancer awareness ribbon using blue and green food coloring.  Ice the cupcakes generously with the remaining white frosting.
Using the ribbon tip for your cake decorating icing bag, pipe the teal ribbons on the top of each cupcake.
*Tomatoes – contain lycopene, a powerful antioxidant that some studies link to decreasing the risk of certain cancers.
*Grapes – contain resveratrol, a phytochemical that some studies link to inhibiting cancer.
*Walnuts – some studies indicate that walnuts positively impact heart health, bone health, diabetes and weight management.
*Spinach – contains many flavonoid compounds which ultimately work as cancer-fighting antioxidants.
*Garlic – contains many antioxidants that help the body fight against "free radicals."
*Cabbage – contains Indole-3-carbinol which some studies link to helping repair damaged cells and preventing cancer growth.
*Onion – contain chemical compounds which some studies indicate have anti-cancer effects.
*Ginger – some studie indicate that ginger contributes to ovarian cancer cell death.
*Kale – contains sulforaphane which some studies show to have anti-cancer properties and Indole-3-carbinol which some studies link to helping repair damaged cells and preventing cancer growth.
*Peanuts – contain resveratrol, a phytochemical that some studies link to inhibiting cancer.
*Coconut – some studies indicate that coconut provides a wide array of health benefits.
*Shrimp – contains selenium, an antioxidant which some studies link to the prevention of cancer.
*Almonds – contain selenium, an antioxidant which some studies link to the prevention of cancer.  Studies also show that almonds help heart health.
*Blueberries – contain certain phytochemicals which some studies link to the reduction of certain cancers.
Tags: charity, Foodbuzz 24x24, fundraiser, Ovarian cancer