Print This Recipe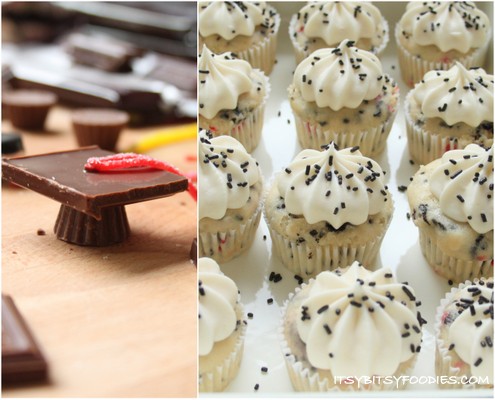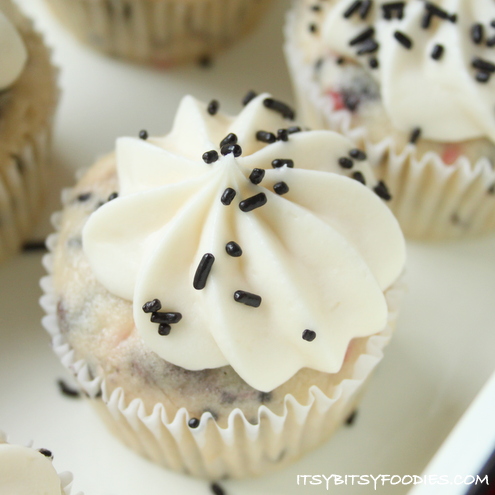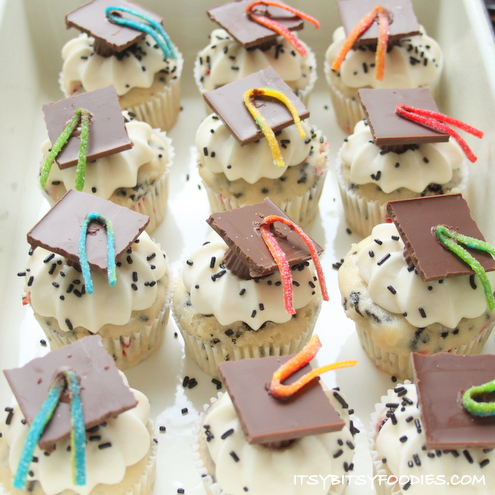 Now what seems like forever ago at the beginning of the summer, we had two graduation parties in our family.  I made cupcakes for both parties which happened to be on the same weekend.  Six varieties and nearly 150 cupcakes later, I enjoyed both of the family reunions and toasting the new graduates.  For Jason's "Beer and BBQ" graduation party I made these Funfetti cupcakes with DIY chocolate graduation cap cupcake toppers along with the Chocolate Stout Cupcakes with Stout Fudge Frosting and Maple Cupcakes with Maple-Candied Bacon.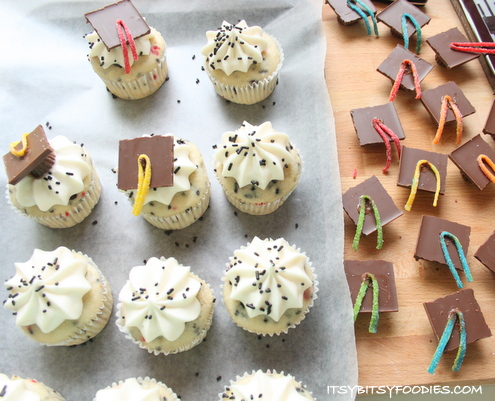 Vanilla funfetti cupcakes are always a crowd-pleaser, especially topped with sugary, sweet vanilla buttercream frosting.  And in this case, they were extra special (in addition to being a fun centerpiece) with the chocolate graduation caps.  Funfetti cupcakes are easy to make, simply stir the sprinkles of your choice into the cake batter.  Making them yourself allows you to match a party or color theme and use custom sprinkle colors.
Congratulations, Jason!!

Funfetti Graduation Cupcakes
Author:
Itsy Bitsy Foodies
Prep time:
Cook time:
Total time:
Funfetti cupcakes topped with DIY chocolate graduation caps make a festive graduation centerpiece.
Ingredients
Funfetti Cupcakes
3½ cups flour
2 tsp baking powder
½ tsp baking soda
1¾ cups sugar
¼ cup butter
1½ Tbsp oil
2 egg whites
1⅔ cups milk
½ cup plain, fat-free yogurt
2½ tsp vanilla
1 3-ounce jar colored sprinkles (confetti, stars or other shapes)
Buttercream Frosting
3 ¾ cups powdered sugar
½ cup butter, softened
1 tsp vanilla
3 Tbsp milk
Chocolate Graduation Caps
Chocolate squares (Ghirardelli or Hershey's)
Mini Reese's Peanut Butter Cups
Twizzlers or sour candy rods, sliced into thin strips
Instructions
Funfetti Cupcakes
Cream the butter, oil and sugar.
Add the egg whites and beat well.
Add the vanilla, milk and yogurt alternately with the flour, baking powder and baking soda.
Stir in the sprinkles.
Pour the cake batter into greased or lined cupcake pans.
Bake them at 350 degrees for 10-15 minutes or until the cupcakes are a light golden brown and a toothpick comes out clean.
The top of the cupcakes should spring back to the touch.
Buttercream Frosting
Mix the ingredients together.
Beat the frosting on high until it is light and creamy.
Chocolate Graduation Caps
Break a Hershey chocolate bar into squares (2 of the rectangle pieces form a square; there ca be 3 squares per Hershey bar) or use Ghirardelli Chocolate squares
With icing or melted chocolate, attach the peanut butter cup to the chocolate square to form the grad cap.
Slice the Twizzlers or other rope candy into thin strips.
Twist the candy and with a toothpick use a tiny bit of melted chocolate to adhere the candy tassel to the top of the graduation cap.
Tags: confetti cake, confetti cupcakes, DIY chocolate graduation caps, DIY cupcake toppers, funfetti cake, funfetti cupcakes, graduation cupcakes, party cupcakes, sprinkle cake, sprinkle cupakes, vanilla buttercream frosting, vanilla cupcakes, vanilla funfetti, white cupcakes