Mon, Dec 9, 2013
Breakfast, Christmas, DessertStalking, Dishfolio, Fun Family Activities, Holidays, Itsy Bitsy Foodies Sightings, Pancakes, Waffles & More, Photograzing, Playing with Food, Search by Course

Print This Recipe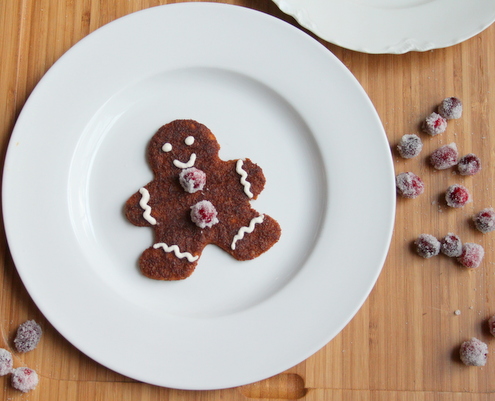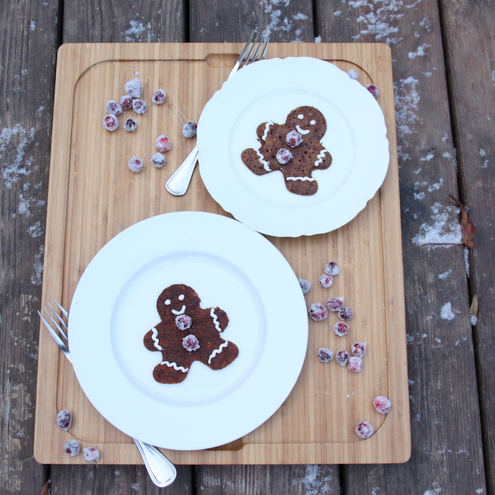 Though it wouldn't be classified as a "snow" day in most places, my boys were excited nonetheless to see the first flakes of the season quietly dust their backyard the other day.  The exciting occasion, ushering in a magical season, called for a special winter breakfast.  Experimenting with a combination of my buttermilk-oatmeal-chia seed pancakes and my gingerbread cupcakes I came up with a recipe for some festive holiday pancakes that are a healthier option than most gingerbread men that are typically in cookie form.
I started with a plain gingerbread pancake batter which was really runny and made ultra-thin hotcakes.  To add more nutrients and to help thicken the batter, I added the oatmeal and chia seeds.  Of course, you can use any pancakes and cut them into any shapes.  Garnish your gingerbread men with sparkling sugared cranberries (or red M&M's) and cinnamon whipped cream.
*For a fun, interactive activity with your kiddos, enjoy your gingerbread pancakes at breakfast or a snow-day snack along with The Story of the Gingerbread Man.

Gingerbread Pancakes with Sugared Cranberries
Author:
Itsy Bitsy Foodies
Prep time:
Cook time:
Total time:
To help thicken the batter and add more nutrients to these gingerbread pancakes, I added oatmeal and chia seeds.
Ingredients
1 cup flour
1 cup oatmeal
3 Tbsp chia seeds
1 tsp cinnamon
1½ tsp ginger
¼ tsp nutmeg
Dash of cloves
½ cup molasses
½ cup boiling water
1 tsp baking powder
½ tsp baking soda
2 Tbsp vegetable oil
2 Tbsp brown sugar
1 egg
Instructions
Mix the dry ingredients in a bowl.
Mix the molasses and boiling water.
Add the wet ingredients to the dry ingredients and gently stir until just combined.
Heat the pancakes over low-medium heat, being careful not to burn them and cooking until golden on each side. (Maybe due to the molasses the pancakes seem to brown more quickly so I recommend cooking them at a lower temperature for longer so as not to burn them.)
If desired, cut the pancakes into gingerbread men or other shapes using cookie cutters. (I run a pairing knife around the edge of the cookie cutter before pulling it out of the pancake to help get a clean edge. You can always use the knife to clean it up even more if there are shreds of oatmeal sticking out.)
Garnish with cinnamon whipped cream and sugared cranberries.
Serve with maple syrup.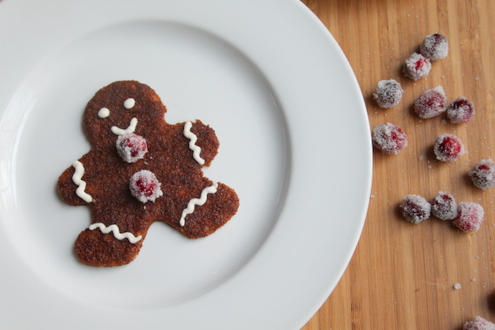 Tags: chia seed pancakes, Christmas pancakes, food art, gingerbread, gingerbread man pancakes, gingerbread pancakes, oatmeal pancakes, pancakes, playing with food, sugared cranberries