Mon, Mar 22, 2010
Around the World, Breads, Fun Family Activities, Holidays, Muffins & Quick Breads, North America, Search by Course, Side Dishes, Super Bowl, United States

Print This Recipe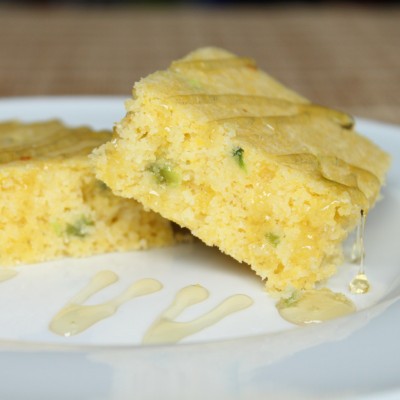 Last summer I wanted to make habañero cornbread with the habañeros from our garden.  Inspired by the chile cornbread with jalapeño jelly that I'd had at a restaurant a while back, I started looking for a recipe.  My search stopped with Bobby Flay, one of our favorite celebrity chefs.  The recipe comes from his cookbook: Bobby Flay's Bold American Food.
His recipe calls for canned chile peppers and he bakes the cornbread in a cast-iron pan (which I don't have).  So, I decided to try it with some chopped habañero peppers from our garden and I baked it in a greased 9×13 pan.  We loved it! 
The cornbread itself is moist and cake-like.  The garden-fresh habañeros were flavorful and surprisingly not too spicy.  It was the first time that we were actually able to taste this fiery orange chile pepper without being overwhelmed by the spice.  I have since made this cornbread with jalapeño peppers and it is equally good. 
I have included jalapeño peppers in the following recipe, but feel free to substitute canned chiles if you want to tame it down.  Or add habañero peppers if you think you are up for the spicy challenge!
Serve the jalapeño cornbread with chili or another dish of your choice.

Author:
Itsy Bitsy Foodies
Prep time:
Cook time:
Total time:
This moist and cake-like cornbread is made to go with chili but it also works as a side to many other main dishes.
Ingredients
1 cup yellow cornmeal
1 cup all-purpose flour
2 Tbsp sugar
1 tsp salt
1½ tsp baking powder
1 egg, lightly beaten
½ cup buttermilk
½ cup milk
6 Tbsp butter, melted
Roughly 1 Tbsp chopped jalapeño peppers
Instructions
Combine the dry ingredients.
Fold in the wet ingredients.
Stir in the chopped jalapeño peppers at the end.
Pour the cornbread batter into a greased 9 x 13 pan and bake it for 15 minutes at 450 degrees, or until the edges of the bread are lightly browned and a knife inserted in the bread comes out clean.
TIP: I like to serve both plain cornbread and jalapeño cornbread so that my family has options. I usually pour the batter into the greased pan before stirring in the chopped peppers, and then gently mix the peppers in to only one side of the pan.
Recipe adapted from:
Bobby Flay's Bold American Food
Tags: corn bread, cornbread, cornmeal, jalapeno peppers, quick bread