Print This Recipe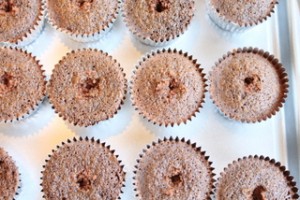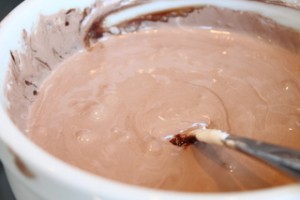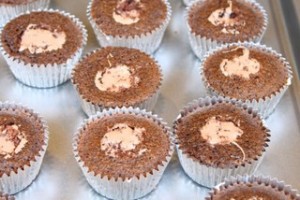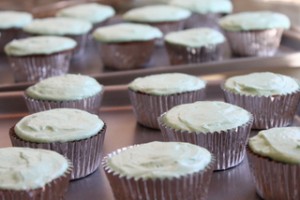 These Nutella and chocolate marshmallow cream-filled cupcakes are a great way to make a standard chocolate cupcake more special.  They worked perfectly for the Cupcakes à la Tiffany's I made for my niece's birthday.  Filling them is easier than I thought, and you can inject Nutella, chocolate marshmallow cream or whatever else you would like into the center.
Ingredients
Chocolate cake, baked as cupcakes
Buttercream frosting, with an additional 1-2 Tbsp milk
Nutella
7-ounce jar of marshmallow cream
3/4 cup chocolate chips
1 Tbsp milk
Bake the chocolate cupcakes and let them cool completely. 
To make the chocolate marshmallow cream, spoon the marshmallow cream into a large bowl.  Melt the chocolate chips in a saucepan over low heat until they melt.  Stir in roughly 1 Tbsp milk to reach the desired runny texture.  Then, stir the chocolate sauce into the marshmallow cream.
Fit an icing decorating bag with a large tip, and spoon Nutella into the bag until it is half full.  Poke the icing tip through the top of the cupcake until it is roughly in the center of the cupcake.  Squeeze Nutella until a little bit seeps through the top.  (My icing tip ended up being too small to work with the Nutella and marshmallow cream so I used the tip to poke a hole in each cupcake and then the icing tube fitted with the plastic coupler to fill the hole.  Next time, I will make an even bigger hole so that there is more Nutella with each bite of cupcake.)
Repeat the above process with all of the cupcakes, or fill half of them with the chocolate marshmallow cream. 
TIP: Crumbs from the hole in the center of the cupcake will be exposed.  To prevent the crumbs from getting mixed into the frosting, add 1-2 Tbsp more milk to the buttercream frosting so that it is soft and easy to spread, and ice the cupcakes generously.  Or, you can inject the filling into the bottom of the cupcake.
Tags: chocolate, chocolate cupcakes, marshmallow cream, Nutella