Thu, Sep 15, 2011
Around the World, Desserts, Europe, Honest Cooking, Ice Cream & Frozen Treats, Italy, Itsy Bitsy Foodies Sightings, Photograzing, Search by Course

Print This Recipe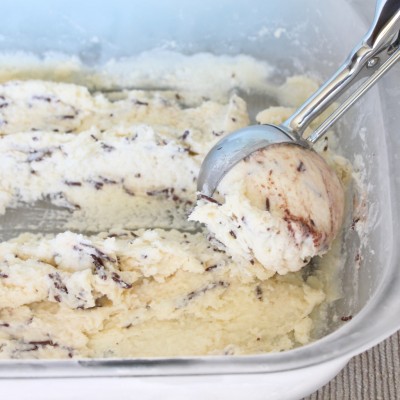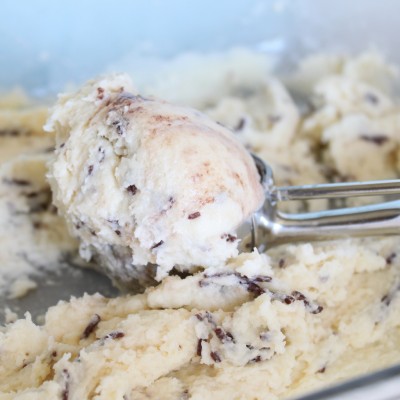 I love making ice cream and have really come to love the ice cream attachment for my Kitchen Aid stand-up mixer because it makes the process so effortless.  But because I was curious and because I wanted to have tried it when recommending it to friends and readers, I made ice cream without a machine this time, following the simple steps outlined in David Lebovitz' article: How to Make Ice Cream Without a Machine.  I was pleasantly surprised with how creamy the ice cream turned out when simply beaten in a pan.  It is a straightforward process that I'm sure I will follow again if I'm ever stuck without a machine or if I want to make multiple flavors at once.
In David Lebovitz' article he pictured stracciatella ice cream and I was reminded of the stracciatella gelato that I have seen and sampled many times in gelaterias all over the place.  So I decided that it was the perfect flavor for my trial of making ice cream without a machine.  To mix it up, I used Nutella as the chocolate source not only because Nutella Stracciatella has such a nice ring to it but also because my Nutella-loving niece was visiting.
Stracciatella gelato was invented in Italy in the 1960's.  It is reminiscent of America's chocolate chip ice cream but the chips of chocolate are in smaller strands which are integrated more into the gelato itself.  I used a standard French Vanilla Ice Cream as the base and then added Nutella to taste.  For those of you who aren't Nutella fans you can use as little Nutella as you would like or substitute any melted chocolate, including plain chocolate chips.  For you Nutellaholics out there, you can repeat the "drizzle it with more Nutella" step ad nauseam.

Nutella Stracciatella Ice Cream
Author:
Itsy Bitsy Foodies
Prep time:
Cook time:
Total time:
French vanilla ice cream studded with strands of Nutella makes for a decadent treat!
Ingredients
3 eggs
2 cups milk (or half and half)
1 cup sugar
2 cups heavy cream
2 tsp vanilla extract
¼ cup Nutella, to taste
Instructions
In a large saucepan, beat the eggs, milk and sugar until well blended.
Cook the egg mixture over low heat for roughly 20 minutes, stirring constantly, until thickened. It should smoothly coat the back of a wooden spoon.
Let the mixture cool.
Add the heavy cream and the vanilla.
Stir until blended and refrigerate the mixture until it is completely chilled, for several hours or up to overnight.
To make the ice cream without a machine, pour the chilled ice cream mixture into a sturdy freezer-safe pan.
Place it in the freezer for thirty minutes to an hour and then beat the cream mixture vigorously with a whisk or a spatula to break up the ice particles.
Place it back into the freezer and let it harden until it is beginning to freeze around the edges again.
Stir it again and place it back in the freezer.
Repeat this process until the ice cream forms.
Once it is almost completely frozen, drizzle Nutella all over the top of the ice cream.
Place the pan in the freezer until the Nutella hardens and then stir it up again, breaking the Nutella into chips.
Before placing it back in the freezer, drizzle it with more Nutella.
Repeat this process until you think the ice cream has enough Nutella, probably two or three times.
Once the ice cream is finished, eat it immediately or transfer it to a sealed container and freeze it until you are ready to serve it.
If you make the ice cream with a machine, follow the instructions of your ice cream maker, pouring the chilled mixture into your machine and stirring it until the ice cream forms.
Wait to add the Nutella until the end of the process when the ice cream is beginning to harden.
Then, continue stirring the ice cream with your machine and/or place it in the freezer to allow the Nutella to harden.
Repeat the process two or three times if you want more Nutella.
Tags: chocolate chip ice cream, David Lebovitz, ice cream, making ice cream without a machine, no churn ice cream, Nutella, Nutella ice cream, stracciatella