Tue, Sep 13, 2011
Appetizers, Around the World, Disguising Healthy Foods, Dishfolio, Egypt, Israel, Itsy Bitsy Foodies Sightings, Lebanon, Middle East, Palestine, Photograzing, Search by Course, Snacks, Syria

Print This Recipe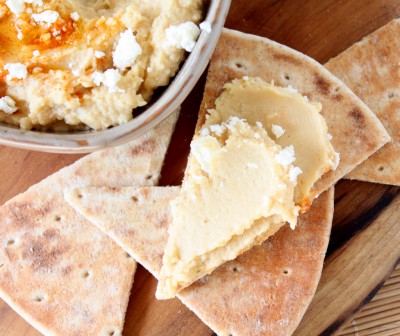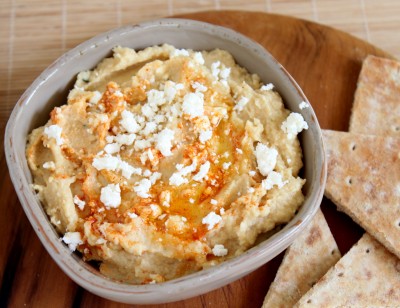 When I recently started prepping to make hummus I realized that we didn't have tahini (a sesame seed paste, similar in texture to peanut butter).  Because I use a really small amount in my hummus as it is and I didn't feel like going to the store, I decided to try making hummus without tahini this time.  To round out the flavor and texture, I blended in some feta and then topped the hummus with olive oil, feta crumbles and a dash of paprika and cayenne pepper.  We really didn't miss the tahini and I'm sure I will be making the tahini-less hummus again because it is one less specialty ingredient to stock up on. 

Author:
Itsy Bitsy Foodies
Recipe type:
Appetizer, Snack
Prep time:
Cook time:
Total time:
You can still make hummus without the tahini. Use some feta cheese instead to round out the flavor and texture.
Ingredients
3 15-ounce cans garbanzo beans, drained and rinsed
1 Tbsp lemon juice, to taste
1½ tsp salt, to taste
1 – 1½ cups water
½ cup feta cheese crumbles, separated
4-6 roasted garlic cloves, minced
Olive oil, optional
Cayenne pepper or paprika, optional
Instructions
Pour the drained and rinsed garbanzo beans into a sauce pan and cover them with water.
Heat them over medium heat and let them simmer for 15-20 minutes until the beans are tender.
While the beans are simmering, place the peeled garlic cloves in a baking dish and drizzle them with olive oil.
Bake them at 400 degrees for 5-10 minutes until they are soft.
Drain the beans and reserve the water used in simmering the beans.
Blend the beans with ¼ cup feta and the rest of the ingredients in a blender or a food processor, until a smooth hummus forms.
Add some of the reserved water to reach the consistency that you like and season the hummus to taste.
If desired, drizzle a little bit of olive oil on top of the hummus and sprinkle it with cayenne pepper or paprika and the remaining feta cheese crumbles before serving it.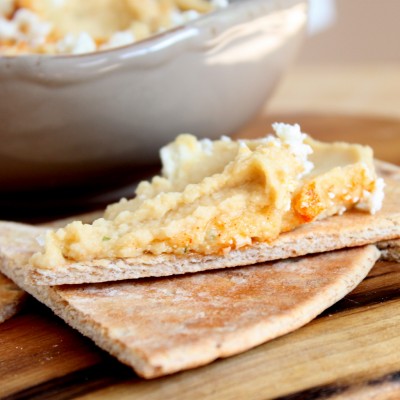 Tags: chickpeas, feta cheese, garbanzo beans, garlic, hummus