Print This Recipe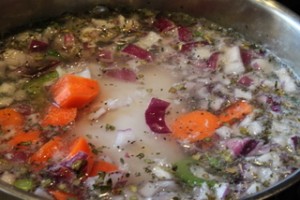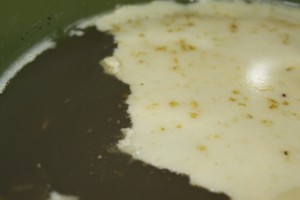 I prefer using homemade chicken broth but sometimes I simply don't have enough time to let a whole chicken simmer for four hours.  Using chicken breasts instead of a whole chicken is a shortcut that will get you homemade chicken broth in only about an hour.
Just like with the chicken broth made from the whole chicken, you can flavor the broth for a specific dish by adding different veggies and seasonings.  I like to freeze the broth in 1-2 cup quantities so that it is ready to go for soups, rices and other dishes.
Ingredients
2 chicken breasts
1 tsp salt, to taste
1/2 of an onion, in chunks 
2 celery stalks, in chunks
2 carrot sticks, in chunks
2-3 garlic cloves, chopped
1 Tbsp fresh parsley
5 cups cold water
1/4 tsp thyme
1/4 tsp bay leaves
1/4 tsp basil
1/4 tsp black pepper
1/4 tsp jalapeño powder, optional
Spicy Version: Add 1 Anaheim or jalapeño pepper to the broth and let it simmer with the rest of the vegetables.  Substitute 1 Tbsp cilantro for the parsley.
Add all of the ingredients to a pot and bring them to a boil.  Reduce the heat and let simmer for 30 minutes – 1 hour until the chicken is cooked.  Skim the top to remove scum that rises to the top of the pot.
If you are simply making broth, remove the chicken once it is cooked and save the meat for another use.  Continue seasoning the broth to taste.
For a broth, you can leave the veggies in larger chunks and include the leafy heads of the celery and carrots.  When the broth is done, drain it and discard the veggies.  Once the broth has cooled, cover it with plastic wrap and refrigerate it overnight.  The following day, remove the layer of fat from the top of the broth.  Freeze the broth in 1-2 cup quantities or use immediately.  (It should keep for 2-3 days in the refrigerator.)
TIP: If you are making soup and want to keep the veggies in the broth, peel and chop them into smaller pieces.  Once the chicken is cooked, remove the breasts from the broth.  Let the broth continue to simmer while you cut the chicken into chunks and return the pieces of chicken meat to the broth.
Tags: basil, carrots, celery, chicken breasts, garlic, parsley, thyme