Print This Recipe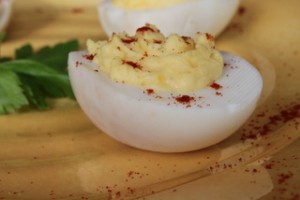 Deviled eggs make me think of Easter brunch but they make a great appetizer at any party or picnic.  And they are the perfect dish for using up your Easter eggs.
The following recipe comes from my sister-in-law.  It is a basic recipe and you can easily modify the seasonings.  I have experimented with regular mayonnaise and light mayonnaise and I couldn't tell a difference (but some people swear by using the real deal, full-fat mayo on this one). 
Ingredients
2 eggs, hard-boiled
1 Tbsp mayonnaise (I use light mayo)
1/8 tsp yellow deli mustard, to taste
1/2 tsp pickle juice
Salt, to taste
Black pepper, to taste
Paprika
Place the eggs in a pan and cover with cold water.  Add 2 Tbsp vinegar or 1 tsp salt to the eggs to help prevent them from cracking while cooking.  Bring the eggs to a boil and let them boil for one minute.  Remove the pan from the heat and cover it.  Let the eggs simmer for 12 minutes.
Cut the hard-boiled eggs in half and scoop out the yolks.  Add the mayo, mustard, pickle juice, salt and pepper to the yolks.  Mash them until a thick, smooth paste forms.  Season the mixture to taste.  Spoon the mashed yolks into the hard-boiled egg white halves.  For a fancier presentation, put the yolk mixture in a piping bag (or a plastic bag with a corner cut off) and pipe it into the egg white halves.
Sprinkle the deviled eggs with paprika.
Tags: eggs, mayonnaise, mustard, paprika, pickle juice