Print This Recipe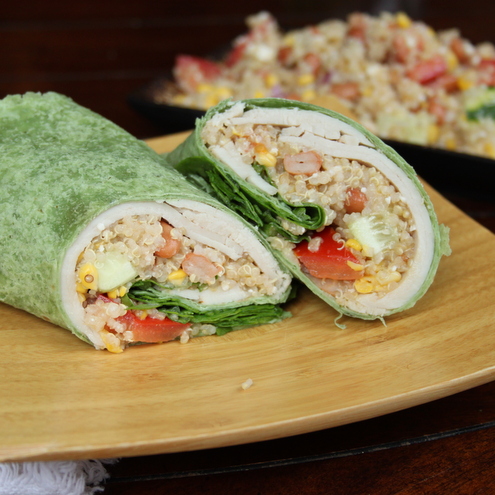 I love quinoa year-round.  Cold quinoa salad is so refreshing during the heat of the summer and hot quinoa dishes are so comforting during the dark and cold winter months.  I have recently found that quinoa is a great addition to my back-to-school repertoire because these soy-ginger quinoa salad wraps, for example, can be made in advance and stored in the refrigerator, ready to go for lunches, after-school snacks, and busy weeknight dinners.
This specific quinoa salad came about by accident.  Whenever I have vegetables (and in this case deli meat, beans and spinach tortillas) to use up, my first thought is typically to make a batch of quinoa and turn everything into a salad.  I added only a couple splashes of some Rikki's Soy-Ginger dressing that we had, just enough to add some flavor without making the salad soupy.  A quick homemade sweet and sour vinaigrette (with the optional addition of ginger) would also be an easy option.  You can enjoy this soy-ginger quinoa salad as is, or for something different, transform it into wraps.
*It goes without saying that you can mix it up by using different veggie and dressing combos.

Soy-Ginger Chicken Quinoa Wraps
Author:
Itsy Bitsy Foodies
Prep time:
Cook time:
Total time:
These wraps are perfect for back-to-school because they can be made ahead of time, ready to go for lunches, after-school snacks and busy weeknight dinners.
Ingredients
1 cup quinoa, cooked
2 ears of corn, cooked with corn removed from cob
3 tomatoes, chopped
1 cucumber, chopped
¼ of a red onion, chopped
¼+ cup feta cheese
Pinto or garbanzo beans, optional
Cilantro, shredded, optional
2 Tbsp Soy-Ginger (or other) dressing, to taste
Spinach, rinsed and patted dry
Turkey or chicken deli meat
Spinach tortillas
Instructions
Cook the quinoa according to the package instructions.
Place the corn in a pot of water and bring the water to a boil.
After a minute, put a lid on the pot and remove the pot from the heat, letting the corn simmer until done.
Remove the cooked corn from the water and let cool until you can hold it to cut the corn off of the cob. (Or, if using already-cooked, leftover corn on the cob, slice the corn off of the cob.)
Toss the quinoa with the veggies and feta cheese.
Add dressing to taste - just enough for some flavor without making it soupy.
Eat the salad as is or to make wraps, spoon some quinoa salad down the center of a spinach tortilla and top with slices of deli chicken or turkey and spinach.
Cut the wrap in half or slice into pinwheels for an appetizer.
Wraps can be made ahead of time, tightly-wrapped with plastic wrap and refrigerated.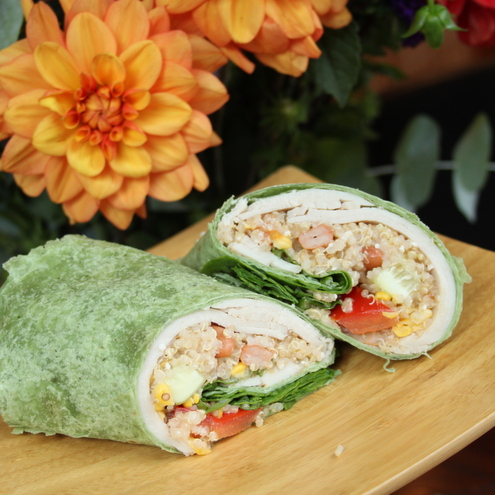 Tags: corn, cucumbers, pinwheel sandwiches, quinoa, quinoa salad, quinoa sandwich, quinoa wrap, soy ginger dressing, spinach wraps, tomatoes, wraps