Sat, Jan 9, 2010
Around the World, Asia, China, Disguising Healthy Foods, Main Dishes, Quick n' Easy, Sauces, Marinades & Dips, Search by Course

Print This Recipe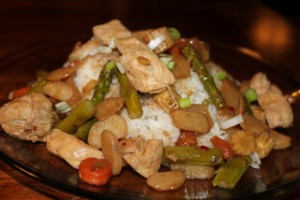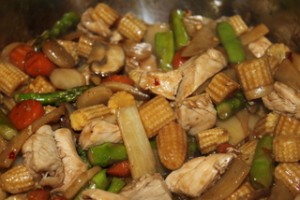 My mom made this stir-fry for us a lot when I was growing up.  The original name was Chinatown Almond Chicken.  It is quick and easy and you can use any meats or veggies that you have on hand.  I like using fresh ginger and adding garlic powder and crushed red pepper flakes.
It is a great way to get your kids to eat veggies because the stir-fry glaze completely coats and disguises the veggies. 
Ingredients
1 tsp ginger (I like using fresh minced ginger.)
1 tsp garlic powder, to taste
1/4 tsp crushed red pepper flakes, to taste
2 tsp sugar
1 Tbsp cornstarch
3 Tbsp water
3 Tbsp soy sauce
1/3 cup dry white wine
Mix all of the ingredients and place over medium-high heat.  When the sauce thickens, add bite-sized chunks of cooked meats and vegetables and toss until warm.  Serve over steamed white or brown rice.
Veggie ideas:
Broccoli
Asparagus
Water chestnuts
Baby corn
Bamboo shoots
Snow peas
Carrots
Bell peppers