Sat, Jan 9, 2010
Appetizers, Around the World, Asia, Chicken & Turkey, China, Fun Family Activities, Holidays, Main Dishes, Search by Course, Super Bowl

Print This Recipe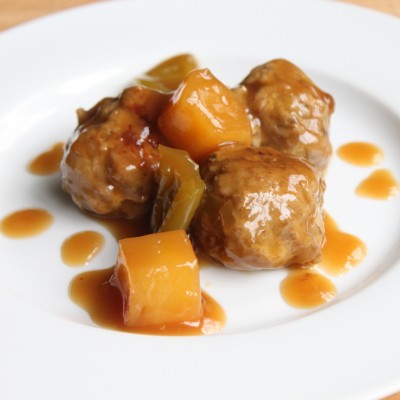 Sweet & sour meatballs are an easy and tasty appetizer.  They are perfect for parties because you can brown the meatballs in advance and then let them finish cooking in a slow-cooker with the sweet & sour sauce while you focus on other elements of your party.  This also allows them to stay hot during the party.  And if you are running short on time or have too many other things to focus on for a party, use store-bought chicken or turkey meatballs (such as Costco's version) and simply let them simmer with the sweet & sour sauce in the Crockpot.
The sweet & sour sauce pairs wonderfully with rice so you can easily make a main course out of it by serving the meatballs or meatloaf over steamed white rice or quinoa.

Author:
Itsy Bitsy Foodies
Prep time:
Cook time:
Total time:
Ingredients
Sweet & Sour Sauce
½ cup brown sugar
1 cup pineapple juice
½ cup vinegar
2 Tbsp cornstarch
2 Tbsp soy sauce
Pineapple chunks/green pepper chunks as desired
Meatballs
1 pound ground turkey, chicken or beef
2 Tbsp feta cheese
½ cup finely diced mushrooms
½ tsp garlic powder or 1 garlic clove, minced
4 Tbsp diced yellow onion
2 tsp flour
2 tsp breadcrumbs
1-2 tsp soy sauce
1 tsp chili oil
Couple drops of sesame oil
1 Tbsp milk
Instructions
Sweet & Sour Sauce
Mix the ingredients in a medium saucepan.
Heat the sauce over medium-high heat, stirring it frequently, until the sauce thickens. Add large chunks of pineapple and bell peppers if desired.
Meatballs
Mix the ingredients together and form balls or pat the mixture into a loaf pan for meatloaf.
Lightly coat a pan with Canola oil and cook the meatballs over medium-high heat, flipping them so that every side cooks evenly.
If need be, cover the pan and continue cooking the meatballs at medium-low heat until they are cooked all the way through.
Or, bake the meatloaf in a pan lined with foil for 30 minutes at 350 degrees or until it is done.
Pour the sweet & sour sauce over the meatballs and serve with toothpicks as an appetizer or over rice for a main course.
TIP: After browning the outsides of the meatballs you can add them to a crockpot with the sweet & sour sauce to finish cooking and then leave them warming in the crockpot for your dinner party.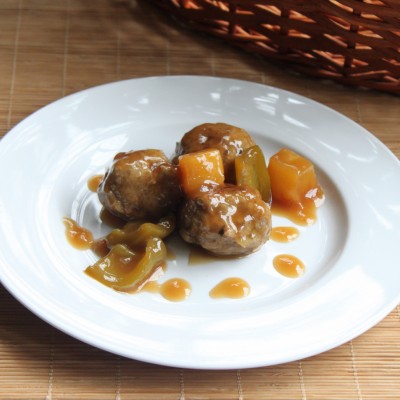 Meatball recipe inspired by Asian Meatballs from Cooking Light (March 2000).
Tags: asian meatballs, asian meatloaf, meatballs, meatloaf, sweet & sour sauce, sweet and sour meatloaf, sweet and sour sauce, turkey