Tue, Dec 29, 2009
Appetizers, Around the World, Asia, Chicken & Turkey, China, Cooking Projects, Disguising Healthy Foods, Fun Family Activities, Main Dishes, Search by Course

Print This Recipe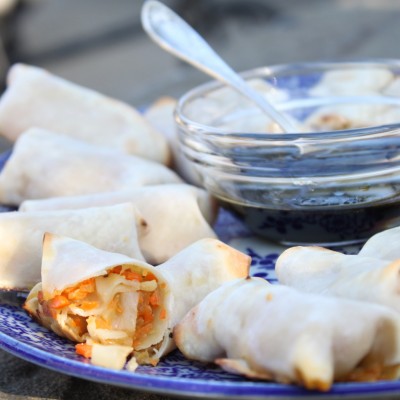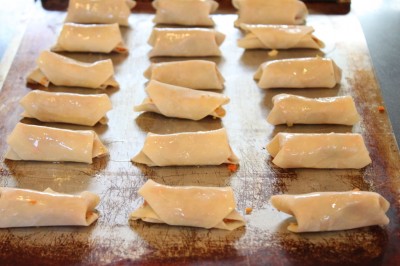 I first made a version of this recipe years ago, from a Cooking Light magazine.  Over the years I have made many variations of it but the base recipe is outstanding.  I like adding ground turkey or chicken for a more filling egg roll.  I usually use egg roll wrappers for more substantially-sized rolls but wonton wrappers make smaller egg rolls that are the perfect size for a cocktail or tapas party. 

Author:
Itsy Bitsy Foodies
Prep time:
Cook time:
Total time:
These baked egg rolls are a healthier version of egg rolls but they still have all of the flavor.
Ingredients
⅔ cups coarsely chopped celery
⅔ cups coarsely chopped carrot
2 cups shredded cabbage (such as Napa)
⅔ cups chopped onion
1 tsp chopped ginger (or more to taste)
1-2 clove garlic, chopped
½ pound ground turkey or chicken, cooked (optional)
Dipping Sauce
Dipping Sauce
1 Tbsp rice vinegar
1 tsp low-sodium soy sauce
1 drop of sesame oil
1-2 drops of hot chili oil
Instructions
Pulse the carrots, celery, cabbage in a Cuisinart to form a finely chopped mixture.
Place the mixture in a bowl and cover it with plastic wrap.
Vent the plastic by poking holes in the wrap with a fork.
Heat the veggies in a microwave for 5 minutes and then drain the liquid.
Coat the bottom of a pan with oil and heat over medium-high heat.
Sauté the onion, ginger and garlic for 2 minutes.
Add browned ground meat if desired.
If using meat, I add 1-2 more cloves of garlic and 1-2 more teaspoons of chopped ginger.
I also season the meat with salt and pepper, to taste.
Remove from heat and stir in the cabbage mixture, 1½ Tbsp soy sauce and ¼ tsp pepper.
Cover and chill for 15 minutes.
Place 3Tbsp filling in the center of each egg roll wrapper (or 1 Tbsp for smaller wonton wrappers), with the corner pointing toward you.
Fold the lower corner up; then fold the right and left corners across.
Brush the top corner with some egg white to moisten.
Roll up the wrappers.
Place the egg rolls seamside down on a cooking sheet coated lightly with cooking spray.
Brush the tops of the egg rolls with oil so that they don't dry out while baking.
Cook them in an oven preheated to 425 degrees for 10 minutes or until golden.
Dipping Sauce
I use rice vinegar as the base but the ratio of ingredients is approximate. You can adjust it according to your taste.
This should be plenty of sauce for the entire batch of baked egg rolls but you can make more as necessary.
Adapted from
Cooking Light
magazine, March 2001.
Order a subscription: Cooking Light (1-year)
Purchase the 2001 compilation of Cooking Light's recipes: Cooking Light Annual Recipes 2001
Tags: cabbage, carrot, celery, chicken, egg rolls, ginger, soy sauce, turkey