Tue, Apr 27, 2010
Appetizers, Around the World, Asia, Chicken & Turkey, Cooking Projects, Fun Family Activities, Japan, Main Dishes, Pork, Search by Course, Side Dishes

Print This Recipe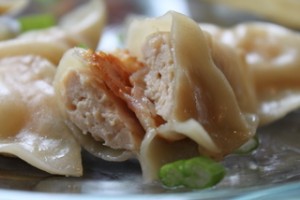 Homemade Gyoza Wrappers:
Store-bought Gyoza Wrappers:
Gyoza is the Japanese version of Jiaozi, the Chinese potsticker.  It is one of my all-time favorite Japanese dishes.  It is a type of dumpling that is typically filled with ground pork but I also like to make them with ground chicken or turkey.  You can deep-fry, pan-fry or steam them.  The pan-fried version (yaki-gyōza) is the most popular form of Japanese gyoza and it is also my favorite.  The bottom is pan-fried to create a crispy flat side while the rest of the dumpling is steamed.
When I was in high school I spent two weeks in Japan on an exchange program.  I will always remember one of my first dinners with my host family in Tokyo.  They found out that I liked gyoza and so my host father came home from work with two large platters of gyoza.  When paired with Japanese sticky rice, it can be a very satisfying main course!
The following recipe comes from Mrs. Kungsan, a restaurant owner in Fussa City and a friend of my parents when they lived in Tokyo.  I recently tried making both the gyoza wrappers and the gyoza filling.  The homemade wrappers were incredibly tender but the dough was very sticky and so they were quite a bit more difficult to work with than store-bought wrappers.  Though the store-bought versions are thicker, they are easy to use and you don't even need to flour the surface.  I have included pictures of both the homemade and store-bought wrappers so that you can see the difference.
Either way, making gyoza is a fun family cooking project.  Let everyone make their own or create an assembly line.  Because you will be handling the raw meat filling, just be sure that your kids are old enough to understand the necessary precautions when handling raw meat.

Author:
Itsy Bitsy Foodies
Prep time:
Cook time:
Total time:
This pan-fried version (yaki-gyōza) of gyoza is the most popular form of Japanese gyoza and it is also my favorite. The bottom is pan-fried to create a crispy flat side while the rest of the dumpling is steamed.
Ingredients
Homemade Gyoza Wrappers
3 cups flour
1 tsp salt
2 Tbsp sesame oil
1½ cups hot water
Gyoza Filling
1 pound ground pork, turkey or chicken
2 Tbsp red wine (or any cooking wine)
3 Tbsp soy sauce
1 tsp salt
3 Tbsp green onions, minced
1 tsp ginger juice (or finely minced ginger)
1 Tbsp cornstarch
½ cup water
3 Tbsp sesame oil
Dipping Sauce
1 Tbsp rice vinegar
1 tsp low-sodium soy sauce
1 drop of sesame oil
1-2 drops of hot chili oil
Instructions
Homemade Gyoza Wrappers
Mix the ingredients together and knead the dough.
Let it rest for fifteen minutes.
Divide the dough into fifty pieces and roll each ball into a circle with a 2-3" diameter.
Gyoza Filling
Combine the ingredients in a bowl.
Stir them together to make a smooth meat filling.
Assembling the Gyoza
Working with one gyoza wrapper at a time, place roughly 1 tsp of meat filling in the center of the wrapper.
Brush the edge of the wrapper with water.
Fold the wrapper over to make a semi-circle and crimp the edges of the wrapper together.
Coat a pan with roughly 1-2 Tbsp oil and heat at medium heat.
Place the gyoza in a single layer on the bottom of the pan.
Cook until the bottoms are golden.
Then add ⅓ cup water and immediately cover the pan.
Reduce the heat to low and let the gyoza steam until the water is fully absorbed.
Serve the gyoza hot with dipping sauce.
Dipping Sauce
Stir the ingredients together.
I use rice vinegar as the base but the ratio of ingredients is approximate. You can adjust it according to your taste.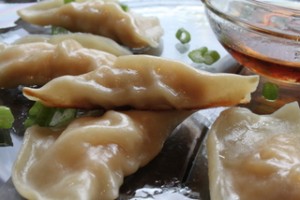 Tags: garlic, ginger, green onions, ground pork, sesame oil, soy sauce