Print This Recipe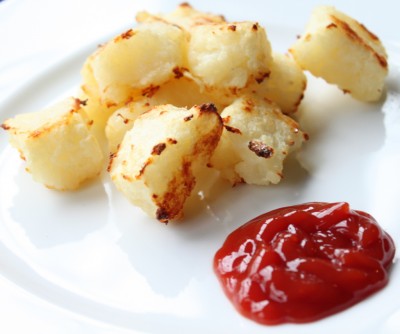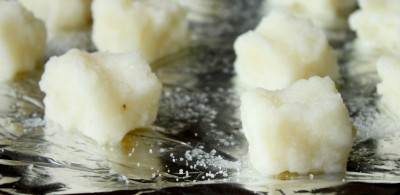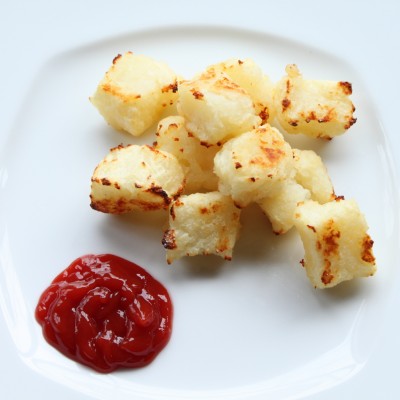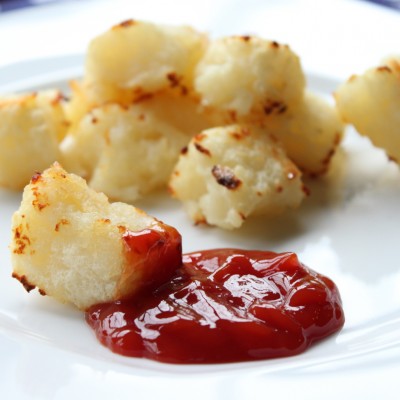 Tater tots are a U.S. invention, originating in the 1950's when the Ore-Ida founders were experimenting with leftover potato pieces.  Tots are known for their crispy exterior and small, cylindrical shape.  When I think of tots I think of school lunches but you can also buy them in the frozen food section of grocery stores and some fast food chains serve them as a side dish.  Did you know that Americans consume approximately 70 million pounds of tater tots a year?! 
Tots are traditionally deep-fried grated potatoes but I wanted to make a healthier version so I opted to bake them.  A cross between french fries and hash browns, they are a perfect way to mix up how you serve your family potatoes. 
Ingredients
Potatoes, cooked and peeled
Salt, to taste
Milk, optional
You can shred or mash your potatoes.  I mashed them so that the tater tots would form into balls easier.  Salt the mashed potatoes to taste and add a dash of milk for a creamy consistency.  Don't add too much liquid or else the potatoes won't form into balls.
Generously grease a baking sheet with cooking oil.  Form the mashed potato mixture into balls or little cylinders and place the potato balls on the greased cooking sheet.  Lightly salt them.  Bake the tater tots at 425-450 degrees for 10-15 minutes on each side, until they are golden brown.  Serve them immediately with ketchup or the dipping sauce of your choice.
TIP: If you want a crispier, more traditional tater tot exterior, you can pan-fry the tots until they are golden and then place them on a baking sheet to continue baking them in the oven.
Tags: potatoes