Sun, Aug 8, 2010
Desserts, Disguising Healthy Foods, Foodgawker, Fun Family Activities, Holidays, Ice Cream & Frozen Treats, Itsy Bitsy Foodies Sightings, National Ice Cream Day, Search by Course, Snacks

Print This Recipe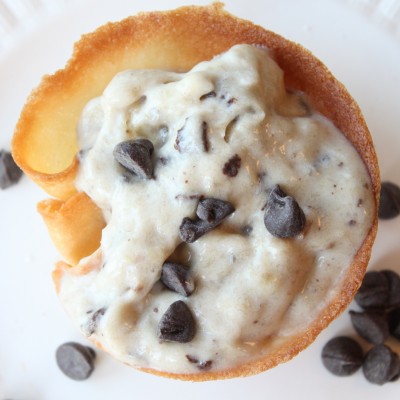 Now that I'm hooked on banana "ice cream" (an easy, creamy frozen dessert simply made of bananas) I decided to try adding chocolate, which is never a bad decision, in my opinion.
This dessert is so easy to make.  Just like with the original one-ingredient version, it is the creamiest and at its best when made to order.  I keep a bag of frozen banana slices in the freezer so that I can make it on demand, with or without chocolate.  And with or without chocolate, it makes a special treat when served with homemade whipped cream in homemade ice cream "cone" cups. 

Chocolate & Banana "Ice Cream"
Author:
Itsy Bitsy Foodies
Bananas and chocolate chips are the only ingredients in this refeshing frozen treat.
Ingredients
Bananas, peeled and sliced (1-2 per serving)
Chocolate chips, chopped
Homemade ice cream cones, optional
Instructions
Place the sliced bananas into a Ziploc bag and freeze them for several hours until they are completely hard.
Put the frozen banana slices into a stand-up mixer or a food processor.
Beat the bananas on medium-high until they start to break into chunks.
At this point, stir them with a spoon to see if they start mashing up and getting creamy.
Continue beating the bananas in the mixer or pulsing them in the food processor until they are creamy, stirring in the chopped chocolate at the end.
Scoop the chocolate & banana "ice cream" into bowls or homemade ice cream cones and serve it immediately.
If you are using a stand-up mixer, you might need to add a dash of milk to help beat the bananas because without a blade they don't chop up as easily.
For a slightly sweeter version, mix a dash of milk or cream and a dash of sugar (only about 1 Tbsp of each) into the bananas.
Tags: bananas, chocolate chips, frozen treat, ice cream, summer dessert