Print This Recipe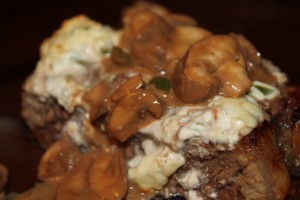 Ingredients
2 New York steaks
1 cup sliced mushrooms
Garlic powder
3 Tbsp soy sauce
1 Tbsp balsamic vinegar
4 Tbsp butter
2+ oz. blue cheese
Sauté the mushrooms on high heat in a soy sauce and balsamic drizzle with 1 Tbsp cheeseball.
Rub garlic powder on both sides of the steaks and grill until medium-rare. 
Mix 4 Tbsp butter and 2+ ounces of blue cheese.
Put the blue cheese mixture on medium-rare steaks and bake in a small pan at 350 degrees until the cheese melts (roughly five minutes total).
Pour the mushrooms and sauce over the steaks.
Serve with roasted red potatoes.
Tags: balsamic vinegar, blue cheese, mushrooms, New York steak, soy sauce