Mon, May 17, 2010
Breakfast, Desserts, Foodgawker, Fun Family Activities, Holidays, Itsy Bitsy Foodies Sightings, Party and Decorative Ideas, Search by Course, Syttende Mai

Print This Recipe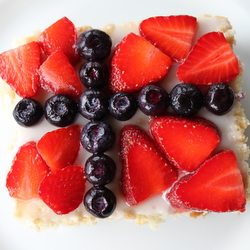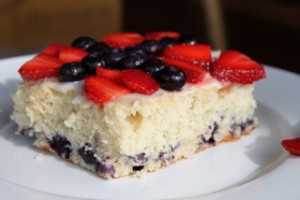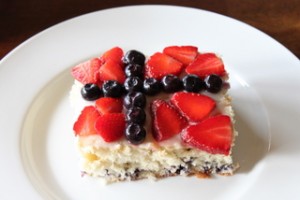 In honor of Syttende Mai, the Norwegian Constitution Day (also known as Norway's National Day), I decided to make a blueberry cake and decorate it like the Norwegian flag. Local strawberries are in season so they became a natural choice for the red foundation of the flag.  You can decorate the entire cake as one flag or turn each piece into an individual flag.
Syttende Mai literally means "May 17th" in Norwegian.  The holiday commemorates May 17, 1814 when the Norwegian constitution was signed.  The holiday is non-military in nature and has become a celebration of the children, the future of the country.  There are many children's parades throughout the country and Norwegian flags, music and food are central to the festivities.
Ingredients
Strawberries
Blueberries
Make the blueberry cake and ice it with the lemon-powdered sugar glaze as directed. 
Slice the strawberries into thin pieces. 
Place the blueberries on the icing to form the blue cross of the Norwegian flag.  Lay the strawberry pieces around the blueberries to make the red foundation of the flag.
Tags: blueberries, lemon juice, strawberries, vanilla