Fri, Jul 1, 2011
4th of July, Around the World, Breakfast, DessertStalking, Disguising Healthy Foods, Foodgawker, Fun Family Activities, Holidays, Itsy Bitsy Foodies Sightings, Memorial Day, North America, Photograzing, Search by Course, Snacks, United States

Print This Recipe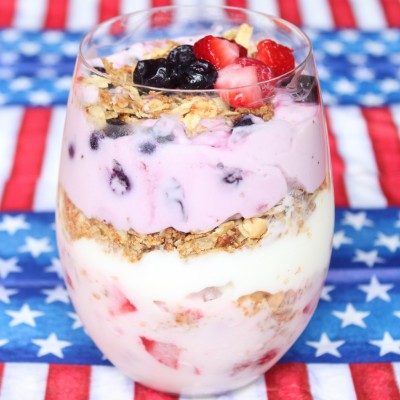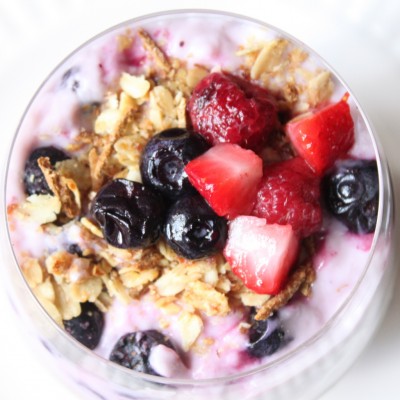 Parfait, French for "perfect," is traditionally a French dessert.  In the United States it has transitioned into a healthy and filling breakfast or snack, typically made with yogurt, granola and berries.  You can layer the yogurts, fruits and cereal of your choice.  In the spirit of the 4th of July I layered strawberry, vanilla and blueberry yogurts with homemade granola to create a festive red, white and blue breakfast.  I mixed in chopped raspberries and strawberries and whole blueberries to make the red, white and blue layers stand out.

Author:
Itsy Bitsy Foodies
Recipe type:
Breakfast, Snack
Layer strawberry, vanilla and blueberry yogurts with granola and berries to make a festive red, white and blue 4th of July breakfast.
Ingredients
12 ounces strawberry yogurt
12 ounces vanilla yogurt
12 ounces blueberry yogurt
1 cup chopped strawberries and/or raspberries
1 cup whole blueberries
Roughly 1 cup granola
Instructions
Layer the parfait in individual glasses or in one large serving dish:
Mix the chopped strawberries and raspberries with the strawberry yogurt and spoon the red yogurt-berry mixture into the bottom of a glass.
Spoon granola over the strawberry yogurt.
Add a layer of vanilla yogurt.
Spoon a layer of granola on top of the vanilla yogurt.
Mix the whole blueberries with the blueberry yogurt and spoon the blue yogurt-berry mixture on top.
Top the parfait with a final layer of granola and some berries.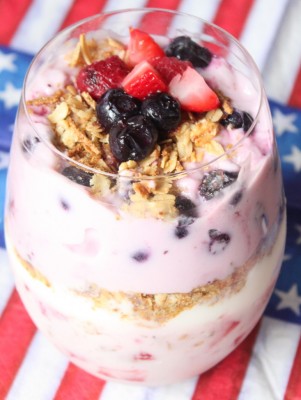 Tags: 4th of July, blueberries, cereal, granola, parfait, strawberries, yogurt