Print This Recipe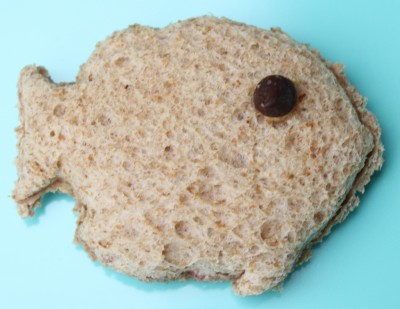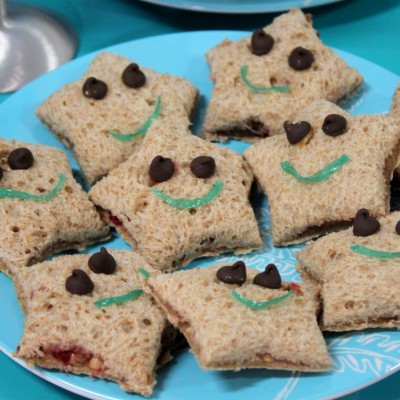 Most kids like peanut butter and jelly sandwiches, especially if they are cut into fun shapes.  Of course, you can make any flavor of sandwich and cut them into any shape.  I made Under the Sea shapes for an Ariel Birthday Party.  The sandwiches are a quick and easy snack for parties, adding some substantial food to the treat table while still sticking to the party theme.

Peanut Butter & Jelly Fish Sandwiches
Author:
Itsy Bitsy Foodies
PB&J's cut into fun shapes will make any kid happy.
Ingredients
Whole wheat bread
Peanut butter
Jam
Chocolate chips
Green fruit roll-ups, cut into thin strips
Instructions
Make peanut butter and jelly sandwiches, primarily spreading the PB&J in the centers of the bread slices.
Cut the sandwiches into shapes using fish, starfish or other under the sea-themed cookie cutters.
I found that pressing the cookie cutter into the sandwich and then tearing off the crust around the cookie cutter helped to seal the edges of the sandwich together.
Dab peanut butter on the bottom of chocolate chips and press them into the sandwiches for eyes.
Use strips of fruit roll-up for a smile.
TIP: Make some sandwiches that are plain jam or cheese in case anyone at the party has nut allergies.
Tags: chocolate chips, jam, party finger food, PB&J, peanut butter, peanut butter and jelly sandwich, playing with food, whole wheat bread