Print This Recipe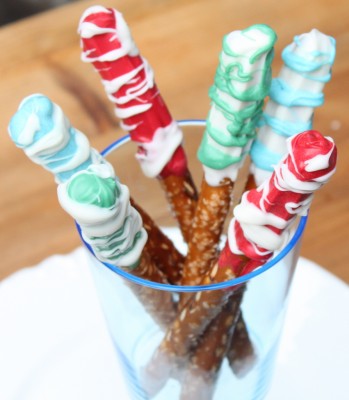 This colorful treat is extremely easy and a great filler to help decorate a party table.  You can use any color combo of chocolates to coordinate with your theme and you can use pretzel rods or standard pretzels.  I made these for the treat table that I recently did for an Ariel birthday party.  To match the theme, I used the same mix of colors that I used for the Ariel chocolate cupcake toppers.  I also made them for my son's Train birthday party, stacked in one of the train cake cars.

Chocolate-Swirled Pretzel Rods
Author:
Itsy Bitsy Foodies
These chocolate-covered pretzels are easy to make and can match any party theme.
Ingredients
Pretzel rods or standard pretzels
Wilton's Candy Melts, in the colors of your choice
Sprinkles, optional
Instructions
Melt the colored chocolate in shallow bowls.
Swirl one end of each pretzel rod into the melted chocolate, spooning chocolate over the end and down the sides to help completely coat one end of the pretzel.
Place the chocolate-dipped pretzel rods in glasses to let the chocolate harden.
If desired, sprinkle with sprinkles while the chocolate is still runny.
Or wait for the chocolate to harden and then drizzle different colors of chocolate over the hardened chocolate.
Return the pretzel rods to the glass to harden.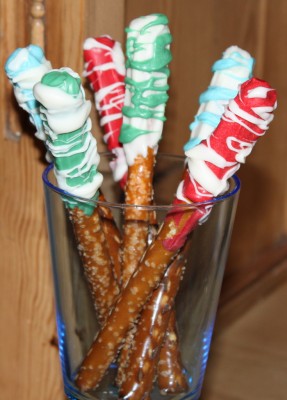 Tags: chocolate-covered pretzels, chocolate-dipped pretzels, dessert pretzels, party pretzels, pretzel rods, Wilton's colored candy melts