Print This Recipe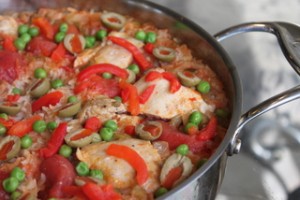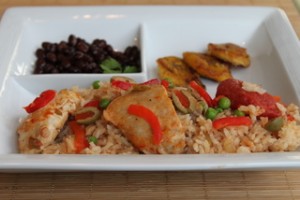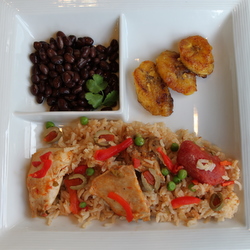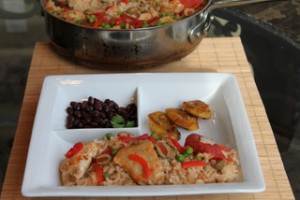 This recipe is from one of my mom's newspaper or magazine clippings from the 70's.  I have adapted it slightly but it is a pretty straightforward interpretation of a Puerto Rican Arroz con Pollo.
Many variations of arroz con pollo can be found throughout Latin America and the Caribbean but some claim that it is the unofficial national dish of Puerto Rico.  The dish, literally meaning "rice with chicken," is thought to have originated in Spain and has definite similarities with the popular Spanish dish, paella.  The pimiento-stuffed green olives in this version are a signature addition from Puerto Rico. 
I used a combination of boneless, skinless chicken breast and chicken thighs but you could use a whole chicken, cut in pieces, if you would like.  I served my arroz con pollo with black beans and pan-fried plantains.
Ingredients
1 chicken breast, cut into two pieces
3 chicken thighs
1/2 of an onion, chopped
2 garlic cloves, minced
1/2 tsp crushed red pepper
1-2 tsp salt, to taste
1/2 tsp black pepper
1 cup long-grain rice
1/4 tsp saffron threads
1 can of whole tomatoes, undrained
1 roasted green chile, chopped
Roughly 1/4 cup frozen peas
1-2 Tbsp sliced pimientos
7-10 pimiento-stuffed green olives, cut in half
2 cups chicken broth
Lightly coat a large pan with cooking oil and heat over medium heat.  Brown the chicken breast and chicken thighs for 2-3 minutes on each side.  Remove the chicken as it turns golden brown.  (It will still be raw in the center but will continue to cook once the rice dish is placed in the oven.)
Add the chopped onion, garlic and crushed red pepper to the pan and sauté for 3 minutes or until golden.  Add the salt, pepper, rice and saffron to the pan and cook until the rice is lightly browned, roughly 5-10 minutes.  Add the tomatoes, chile pepper and chicken broth to the rice mixture.  Add the browned chicken meat on top.  Bring the broth to a boil, then cover and bake at 325 degrees for 1 hour.
Add 1/2 cup water if the rice is not quite done, sprinkle the peas, olives and pimiento strips over the top and do not stir.  Cover the pan again and return it to the oven to bake for an additional 20 minutes or until the chicken is tender and the peas and rice are cooked.
Serve the arroz con pollo hot, directly from the pan.
*Because the boneless, skinless chicken pieces cook quicker than the whole chicken pieces, you could fully cook the chicken on the stovetop and add them to the rice dish at the same time as you add the peas.  This would keep the chicken moist and prevent it from over-cooking.