Tue, Apr 6, 2010
Around the World, Desserts, Europe, Itsy Bitsy Foodies Sightings, Mexico, North America, Search by Course, Spain, TasteSpotting

Print This Recipe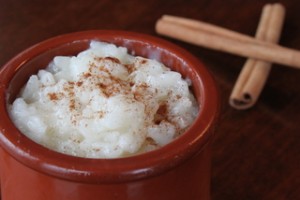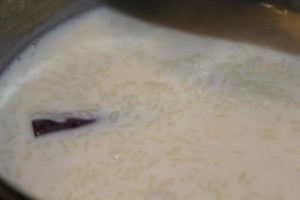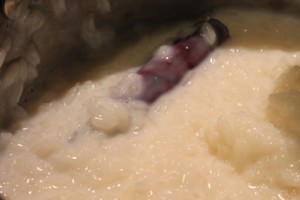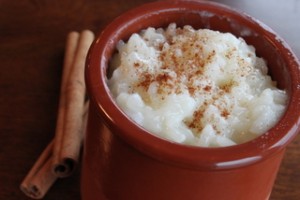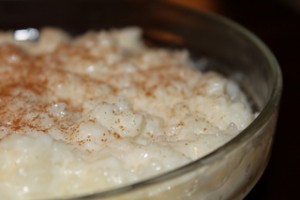 Arroz con Leche, literally "rice with milk," is a traditional Spanish dessert that is also popular all throughout Latin America.  Variations of rice pudding can be found around the world and this is the Spanish take on it.
For most of my life, I was never a pudding or custard fan.  Something about the creamy texture turned me away.  (I know, I was probably the only one with that problem.)    My tastes changed, however, when I moved to Spain.  While in San Sebastián, I stumbled upon a local chef's brand of arroz con leche, packaged in little individual Terra cotta clay jugs.  I was instantly hooked.  I even collected the clay jars and one made it back to Oregon with me (see photos above).
The following recipe comes from my friend, Rosy, who is from Mexico.  I love the simplicity of this recipe – rice, milk, a cinnamon stick and sugar.  It is easy to make as long as you have forty minutes to an hour to watch it and stir it frequently.  Cooking it with the cinnamon stick gives it a warm hint of cinnamon without overpowering each bite. 
The direct conversion from the metric system equates to roughly 1 1/4 cup rice but I prefer using 1 cup rice to every 4 cups milk for a creamier pudding. 
Ingredients
1 cup short-grain rice, rinsed
4 cups milk
3/4 cup sugar
1 cinnamon stick
Heat the milk and the cinnamon stick in a pan over medium-low heat.  Mix in the rice, stirring it constantly so that it doesn't stick to the bottom of the pan.  Once the rice is soft, stir in the sugar and continue cooking and stirring frequently until the rice is completely cooked.
When it is done, remove it from the heat and pour it into a bowl.  Sprinkle it with ground cinnamon and let it chill in the refrigerator for at least thirty minutes.  (I like it warm, too!)  Store it in the refrigerator in a sealed container or in a bowl covered with plastic wrap.  If you want a strong cinnamon flavor, leave the cinnamon stick in the bowl.  Otherwise, remove the cinnamon stick once the rice pudding is done cooking.
TIP: You can adjust the ratio of the ingredients to alter the texture of the dessert.  The more milk in relation to rice, the creamier it will be.