Print This Recipe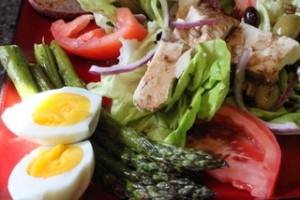 One of the best salads I have ever eaten was a Salade Niçoise at a pizzeria/café in Nice, France.  The Salade Niçoise originated in and was named after this well-known town in the Côte d'Azur (the French Riviera).
Kids typically don't like salads but you might find this one to be different.  A Niçoise salad is kind of like the French version of a Cobb salad.  It is loaded with such a variety of ingredients that your kids might actually have fun trying all of the different toppings. 
The following recipe presents a general guideline of what is found in a Niçoise salad but you can essentially be creative with the ingredients that you add to the dish.  You can usually find Niçoise olives in the deli section of grocery stores but you could use Kalamata olives or a mixture of your favorite olives instead.  The vinaigrette recipe is adapted from a Julia Child's recipe.  A typical Niçoise salad has a Dijon vinaigrette, such as hers, but you can use any other vinaigrette or dressing, or even olive oil and balsamic vinegar. 
This salad is easy to make but takes some prep time.  Fortunately, much of the prep work for the salad, such as cutting and roasting veggies, hard-boiling the eggs and searing the ahi (if you are using fresh fish), can be done ahead of time so that the salad comes together quickly when you are ready to serve it.
With the tuna fish, eggs, potatoes and veggies, it is definitely hearty enough to be a main meal.  But it works as a great side salad if you make the portions smaller.  For this reason, I have not listed quantities for the salad ingredients because you can add as much or as little as you would like.  I like to serve this salad with cheese bread made with Easy Pizza Crust.
Ingredients
Butter lettuce
Tomatoes, sliced in wedges
1 can of albacore tuna or seared ahi tuna steaks, in chunks
Hard-boiled eggs
Niçoise  olives
Red onion, sliced in rings
Roasted fingerling potatoes
Roasted asparagus
Roasted green beans
Feta cheese
Capers, optional
Anchovies, optional
To hard-boil the eggs, place them in a pan and cover them with water.  Bring them to a boil over medium heat.  Boil for 1 minute then remove them from the heat, cover, and let them simmer for 12 minutes until done.  Let the cooked eggs cool.  Once they are cool, peel them and cut them in half.
To roast the potatoes, asparagus and green beans, toss them with approximately 1 Tbsp of olive oil.  Sprinkle them with a dash of garlic powder, salt and pepper.  Bake the vegetables at 400 degrees for roughly 7 minutes on each side until done.  I prefer them al dente – tender and cooked through but still firm to the bite.  Let the veggies cool and then cut the fingerling potatoes in half lengthwise.
Sear the ahi or drain 1 can of albacore tuna.  Break into chunks.
Arrange the butter lettuce on a plate.  Place the remaining ingredients on top.  Drizzle the salad with the vinaigrette (or dressing) of your choice.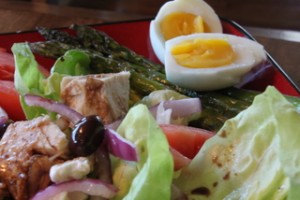 Click here to view a guide for selecting seafood.
Tags: asparagus, eggs, feta cheese, fingerling potatoes, lettuce, Niçoise olives, red onion, tomatoes, tuna fish