Print This Recipe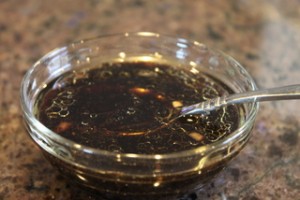 The great thing about this vinaigrette is that you can adjust the ratio of the ingredients to season the salad dressing to your taste.  I have found that it is best to start by adding small quantities of each ingredient because it is easier to add more of something than to "fix" it once you have added too much.
The inspiration for this vinaigrette came from a Julia Child's recipe but I have adjusted the ratio of the ingredients and I usually leave out the Dijon mustard.
This vinaigrette is the perfect dressing for a Salade Niçoise.
Ingredients
1 Tbsp finely minced shallot
1/4 tsp salt
1 Tbsp + lemon juice
2 Tbsp balsamic or red wine vinegar
1/3 cup olive oil
Ground pepper, to taste
Mix all of the ingredients except the oil.  Whisk in the oil by droplets until it is smooth.  Taste with a piece of lettuce and finish seasoning to taste.  Toss with any salad. 
Refrigerate leftovers in a sealed container.  (Note that once refrigerated, the fat from the oil may separate and rise to the top.  You can either stir this in or scoop it out before you use it.)
*I tend to like more vinegar in my vinaigrette so depending on your taste, you may want to adjust the vinegar and olive oil ratio.
Recipe adapted from:
Julia's Kitchen Wisdom : Essential Techniques and Recipes from a Lifetime of Cooking (Stated First Edition)
Tags: balsamic vinegar, lemon juice, olive oil, shallot